We are ranked in the Top 1% of practices in the US by Allergan, the manufacturer of Volbella.  We perform more injectables than 99% of medical practices in the country.
Juvederm Vollure: Facial Rejuvenation Without Surgery
Botox is probably the best-known injectable treatment for facial wrinkles. But dermal fillers have been gaining in popularity because they are well tolerated, feel and look more natural, and last longer. Hyaluronic acid fillers from the Juvederm family are one of the most widely used dermal fillers today. One of the products in the Juvederm line is Vollure. Keep reading to learn more about Vollure and what it can do for you.
What is Vollure? How does it work?
Juvederm Vollure is an injectable hyaluronic acid dermal filler. It is made by the well-known company Allergan, the same company that makes Botox. Vollure is a clear, smooth gel that contains hyaluronic acid, a hydrophilic (water-attracting) substance that is naturally present in abundant quantities in the body, especially in the skin.
Juvederm Vollure is an FDA-approved filler. It is designed to correct moderate to severe facial wrinkles, creases, and folds. Vollure is especially effective in correcting prominent nasolabial folds (the creases that extend from the corners of the mouth to the nose) as well as laugh lines or smile lines around the mouth. Nasolabial folds and laugh lines develop due to the repetitive movement of facial muscles near the mouth and can make the face look old and tired. Filler treatment with Vollure softens the appearance of these lines and creases and restores a more youthful appearance to the face.
What makes Vollure so special?
Vollure is one of the newest facial fillers from Allergan. It is different from other hyaluronic acid fillers because it is made with Vycross technology, which makes it more stable and prolongs its half-life (the half-life determines how quickly the filler is broken down by the body – a longer half-life means longer-lasting results from the filler treatment). Also, Vycross technology gives Vollure more fluidity, which means you get a more natural look and feel after the treatment. As a result of this innovative technology, Vollure hits the sweet spot between being firm enough to fill lines but supple enough to move naturally with facial expressions. Last but not least, Vycross fillers tend to absorb less water than other fillers, which means there is less swelling after the injections.
Preparing for Vollure Treatment
There is no special preparation needed before Vollure facial filler treatment. However, before scheduling the injections, our expert injectors at Dermatology Center of Atlanta will see you for a consultation in the office. At this time, they will discuss your skin concerns and examine you to determine the best treatment option to help you achieve your aesthetic goals. In some individuals, Vollure may be offered as a standalone treatment. In others, a combination of dermal fillers and other treatments like laser rejuvenation or Botox may be recommended to achieve the desired facial rejuvenation.

Top 500
We are one of the Top 500 medical practices in the US for injectable volume

Experience
Our expert medical injectors have years of experience with injectable fillers

Loyalty Program
We participate in Allē, which is the loyalty program for Vollure

Natural Looking
Our goal is not to make you look like someone else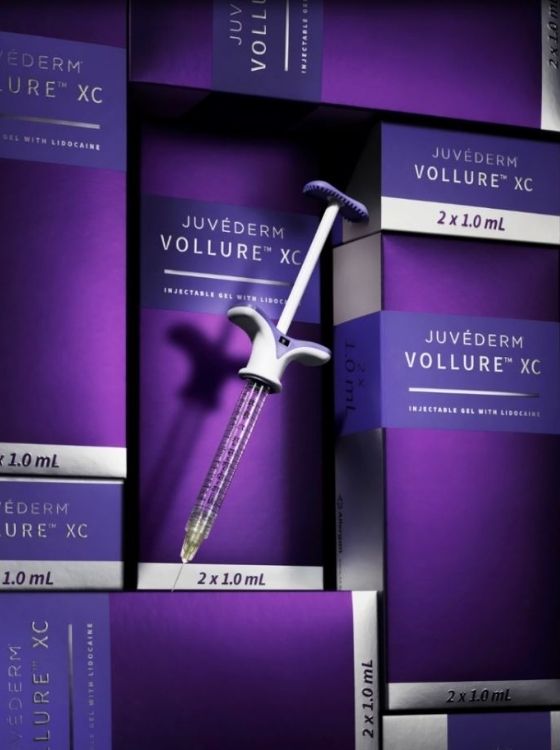 The treatment itself is quite straightforward. Your Dermatology Center of Atlanta medical provider will clean your skin and inject Vollure into the target areas with very fine needles. The Juvederm family of fillers, including Vollure, all contain lidocaine (a local anesthetic) to enhance patient comfort during the injections. The entire process takes 30-45 minutes. You can go home and return to normal activities immediately afterward.
It is a good idea to avoid excessive heat and sun exposure for the first 2 weeks after your Vollure treatment. Your Dermatology Center of Atlanta provider will give you further instructions about skincare.
How long do Vollure results last?
The results are visible immediately after the Vollure injection and continue to improve over the next couple of weeks as the tissues settle, and any minor swelling resolves. The results are long-lasting but not permanent. You will ultimately have to return for repeat treatment, however, to maintain the results. Vollure is one of the longest-lasting fillers for the mid-face. On average, the results last 18 months. This is considerably longer than some other wrinkle treatments like Botox, which typically last 4-6 months.
Clinical trials have shown that 8 out of 10 people who get Vollure injectable are happy with the results 6 months after treatment and 6 out of 10 people are happy 18 months after treatment.
Like with all dermal fillers, injection-related side effects like swelling, bruising, bumps, and minor pain are the most common side effects reported after Vollure treatment. These symptoms are temporary and usually go away on their own in a few days.
During your consultation, your doctor will obtain a health history and perform a physical examination to ensure that Vollure filler treatment is safe for you. It is important to choose a licensed provider for your Vollure treatment so that you can be sure you are offered the treatment only if it is right for you. Also, results can vary greatly depending on the skill of the injector. The more experienced your provider, the higher the likelihood that you will be pleased with the results.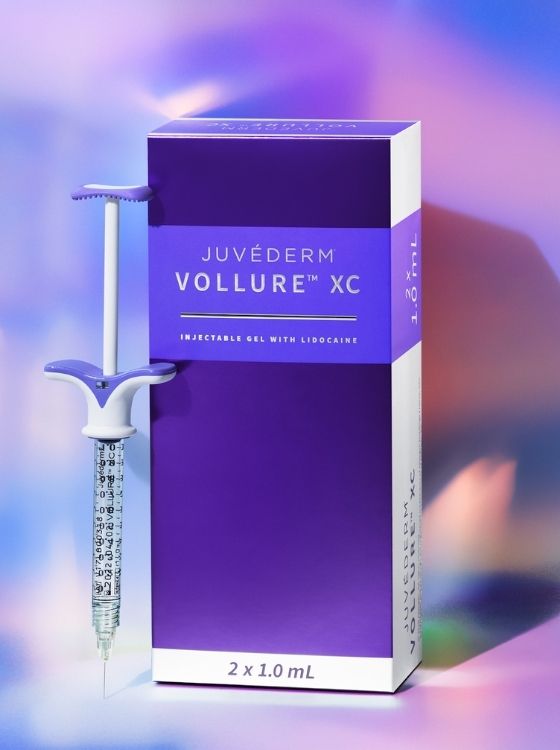 Vollure vs Voluma vs Volbella
It can be quite confusing to figure out which is the right hyaluronic acid filler for you. The Juvederm family alone has a range of products with very similar-sounding names. In general, Vollure is primarily used to treat nasolabial folds between the mouth and nose and smile lines around the mouth. It is lighter than Voluma, which is used in the cheek area, and fuller than Volbella, which is recommended for adding volume to the lips and treating the skin under the eyes. Our expert injectable team is the best team to guide you on the most appropriate choice for your facial skin concerns.