Halo Fractional Laser Resurfacing
HALO is the first hybrid fractional laser using non-ablative and ablative wavelengths. 
Halo Laser Treatment: Revolutionary Skin Resurfacing
If you struggle with skin imperfections, you are not alone. Most people develop signs of aging and sun damage as they grow older. The skin starts showing these changes as early as the mid-20s and 30s. By the time you are in your 40s, 50s, and beyond, there can be significant blemishes, including fine lines and wrinkles, large pores, sun spots, age spots, acne scars, and uneven skin tone. Many skincare products claim to make a difference but rarely produce dramatic results. A revolutionary laser skin resurfacing treatment called HALO laser can help correct these problems and restore a more youthful, glowing complexion to your face. Find out why HALO laser has become so popular and whether it is right for you.
What is the Halo laser treatment?
HALO is the world's first and one-of-a-kind hybrid fractional laser that uses a combination of ablative and non-ablative wavelengths. The ablative wavelengths target the epidermis (the top layer of skin), while the non-ablative wavelengths work deeper in the dermis, prompting the skin to produce more collagen. A hybrid laser such as HALO delivers dual wavelengths to the same treatment zone, meaning it treats both the epidermis and the dermis at the same time. The controlled damage prompts the body to kickstart the natural healing process by building new skin cells and collagen and elastin proteins in the skin.
How effective is the Halo laser?
HALO laser treatments are offered to patients with common skin problems like fine lines, wrinkles, discoloration, enlarged pores, acne scarring, sun damage, age spots, and uneven skin tone. The effectiveness of the treatments varies from person to person and depends on the severity of the skin problems. However, most people achieve a significant improvement in their skin quality and complexion after a single HALO laser treatment.  This unique laser provides maximum results in improving the appearance of skin with minimal discomfort or downtime.
Who is a good candidate for HALO?
Some laser resurfacing treatments are only effective on lighter skin complexions. This is because the laser targets pigmented imperfections in the skin, which are only discernible from the surrounding skin in people with lighter skin tones.
HALO, on the other hand, is effective for all skin colors and textures. It uses innovative motion-tracking technology that measures and maps blemishes in the skin, even those present deep within the skin that are not visible to the naked eye. The laser then targets the identified blemishes. Besides the face, HALO can be used to treat the skin of the neck, chest, arms, hands, and legs.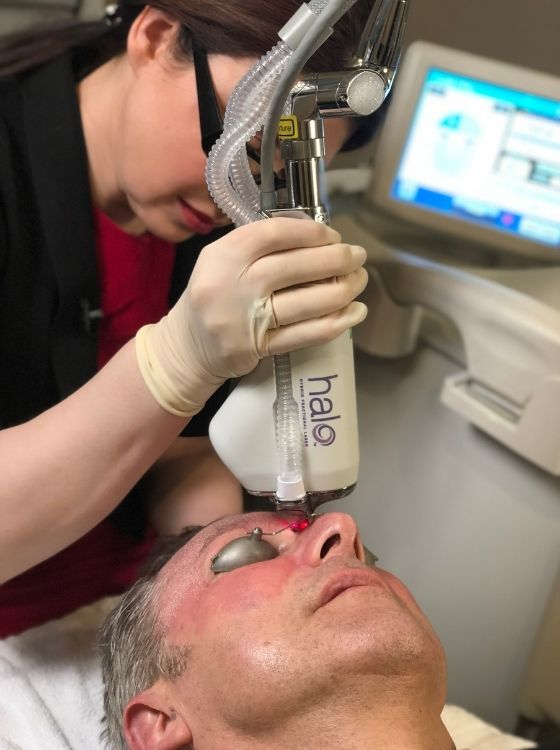 What happens during a Halo laser treatment?
Our expert team of medical providers will clean your skin and apply a topical numbing cream to the target areas. This helps reduce discomfort during laser treatment. Once the local anesthetic has kicked in, the procedure is started. The laser scans the treatment area with motion-tracking technology. The laser device is then applied to the skin.
Many patients report a burning sensation during and immediately following the Halo laser treatment, something like a sunburn. This usually resolves in a few hours. There may also be some redness and swelling that can last for a few days. For this reason, it is a good idea not to schedule a HALO treatment within a few weeks of any major events.
What to expect after Halo laser treatment?
Healing times and outcomes vary based on the depth and density of your treatment as well as your personal skin concerns and individual healing ability. 
You can expect your skin to feel warm – the most intense feeling of heat typically lasts 1-3 hours post-treatment, and these areas may continue to feel quite warm for the next 12-24 hours. You can also expect some pinpoint bleeding immediately after treatment. Redness is normal and usually subsides after several days. Swelling typically begins immediately after your treatment and can last several days, with peak swelling occurring around 48-72 hours after your treatment. Over-the-counter medications like acetaminophen and oral antihistamines can help with any minor discomfort.
MENDs (microscopic epidermal necrotic debris) are tiny dark spots that typically appear around the second or third day after your HALO treatment. These are bits of tissue working their way out while fresh, new skin is being regenerated. It is important to allow these to slough off on their own and not scrub, scratch, or pick at the area while it is healing. 
Hybrid laser treatments like Halo are safe and effective when performed by licensed professionals with expertise in laser skin resurfacing. You can get a youthful glow to your skin with Halo laser without some of the risks associated with older types of ablative-only lasers.
The most common side effects reported by patients who have Halo laser therapy are redness, warmth, and swelling.
Your provider can customize your Halo laser therapy to your aesthetic goals. For instance, if your biggest concern is getting back to your normal routine as soon as possible, you can get a lighter Halo treatment that will rejuvenate your skin but have you ready to wear makeup and go out in public in a couple of days. If you can afford to take a few days off to heal, a more intense Halo treatment can help achieve an even more dramatic improvement, with slightly longer downtime.
How long do HALO results last?
You will have noticeable improvement in your skin quality after your HALO laser treatment once the redness and swelling subside. The results will continue to improve over the next few weeks. Most people only need 1-2 HALO treatments to see remarkable improvements in their skin. However, it is worth remembering that the HALO treatment is just one aspect of a well-rounded skin regime.
Schedule your HALO consultation at DCA today!
You may also be interested in: