 Microneedling with Radiofrequency
VIVACE is a minimally invasive device that combines microneedling with radio frequency to help reduce the appearance of fine lines and wrinkles, tighten the skin, improve texture and tone, and can also help with acne scarring.
VIVACE RF Microneedling: Naturally Beautiful Skin with Minimal Downtime
Everyone wants to look their best at every age. The great news is that there are a plethora of different treatment options available on the market today. However, every person must weigh the goals they want to achieve against the downtime and aggressiveness (invasive vs. non-invasive) of each treatment. If you are looking for an effective rejuvenating treatment that is non-invasive and easy to fit into your lifestyle, VIVACE microneedling with radiofrequency is a wonderful option.
Microneedling and radiofrequency have long track records of delivering amazing skin results without the need for surgery or downtime. Now, we have the advantage of combining both of these treatment modalities to give our patients one of the best skin resurfacing treatments on the market. The VIVACE Microneedling Radiofrequency treatment delivers naturally beautiful skin with minimal downtime.
What is VIVACE RF Microneedling?
Vivace is an FDA-cleared cosmetic treatment device that uses microneedling and radiofrequency (RF) technologies to improve the appearance of your skin. Vivace is unique in that it combines the benefits of microneedling with the skin-tightening effects of RF and blue and red LED light therapy. This technological trifecta uses 36 robotically controlled, gold-tipped microneedles to create microscopic channels deep into the dermis, which stimulates collagen production. Vivace also delivers the highest RF power available. As a result, skin tone, texture and firmness are improved so skin looks youthful and refreshed. 
How does RF Microneedling work?
RF Microneedling is a skin resurfacing treatment that creates microscopic channels deep into the dermis to stimulate collagen production. Adding heat via radio frequency provides additional skin tightening benefits.
The VIVACE medical device has a handpiece with 36 robotically-controlled gold-tipped microneedles to create clean, even insertions at precise depths. This controlled damage triggers the skin's natural healing processes, prompting it to make new skin cells and proteins like elastin and collagen. The result is softer, smoother skin that radiates a healthy glow.
Radiofrequency (RF) devices like Vivace take traditional microneedling to the next level. Vivace uses RF energy (heat) to further penetrate the layers of skin and stimulate collagen formation. Collagen is an essential skin protein that is responsible for the skin's softness, smoothness, and youthful appearance. With age, the amount of collagen in the skin decreases significantly, leading to the appearance of fine lines, wrinkles, loose skin, and uneven tone and texture. By inducing collagen formation in the skin, Vivace RF microneedling helps to reverse many of these common signs of aging.
Award-Winning
We are an award-winning dermatology practice that specializes in aesthetic medicine.

Experience
Our expert aesthetic providers have years of training and hands-on experience.

We offer discounted package pricing and routinely offer special promotions on most of our aesthetic services.

Natural Looking
Our goal is not to make you look like someone else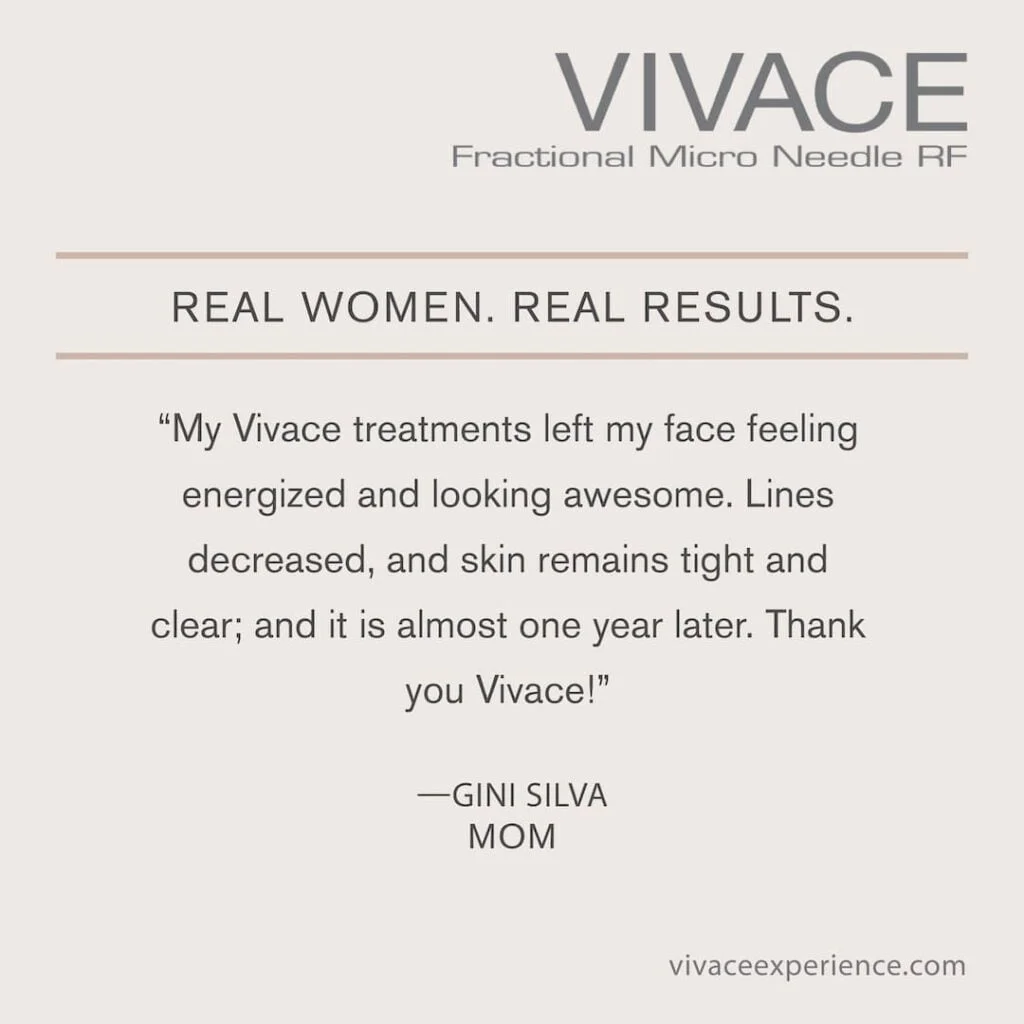 What skin concerns can VIVACE RF Microneedling treat?
Some of the skin concerns that can benefit from VIVACE treatments include fine lines and wrinkles, loose skin, enlarged pores, rough skin texture, and uneven skin tone.  VIVACE can even help the appearance of acne scarring. The overall effect is younger-looking skin that looks naturally beautiful and healthy.
Is VIVACE RF Microneedling painful? What should I expect during the treatment?
Vivace RF microneedling treatments are virtually pain-free.  We use a compounded, best-in-class topical anesthetic (numbing cream) to keep you comfortable throughout the treatment.  Most patients find Vivace treatments to be comfortable and painless. However you may feel some mild stinging or feelings of heat during the treatment, which takes about an hour. 
How long after VIVACE do you see results?
What our patients love about Vivace is that they get immediate results as well as continued improvement in skin quality over time.  After a Vivace treatment, you can expect visible improvement in your skin within 3-7 days.  In addition, your skin will continue to improve for up to six months after Vivace RF.
Is there any downtime after VIVACE RF microneedling?
There is minimal to no downtime after a Vivace treatment. Right after your Vivace treatment, you may be a bit red and there may be some mild redness or swelling for a day or two. Makeup may be worn the next day, and typically no one will be able to tell you had a procedure done at all.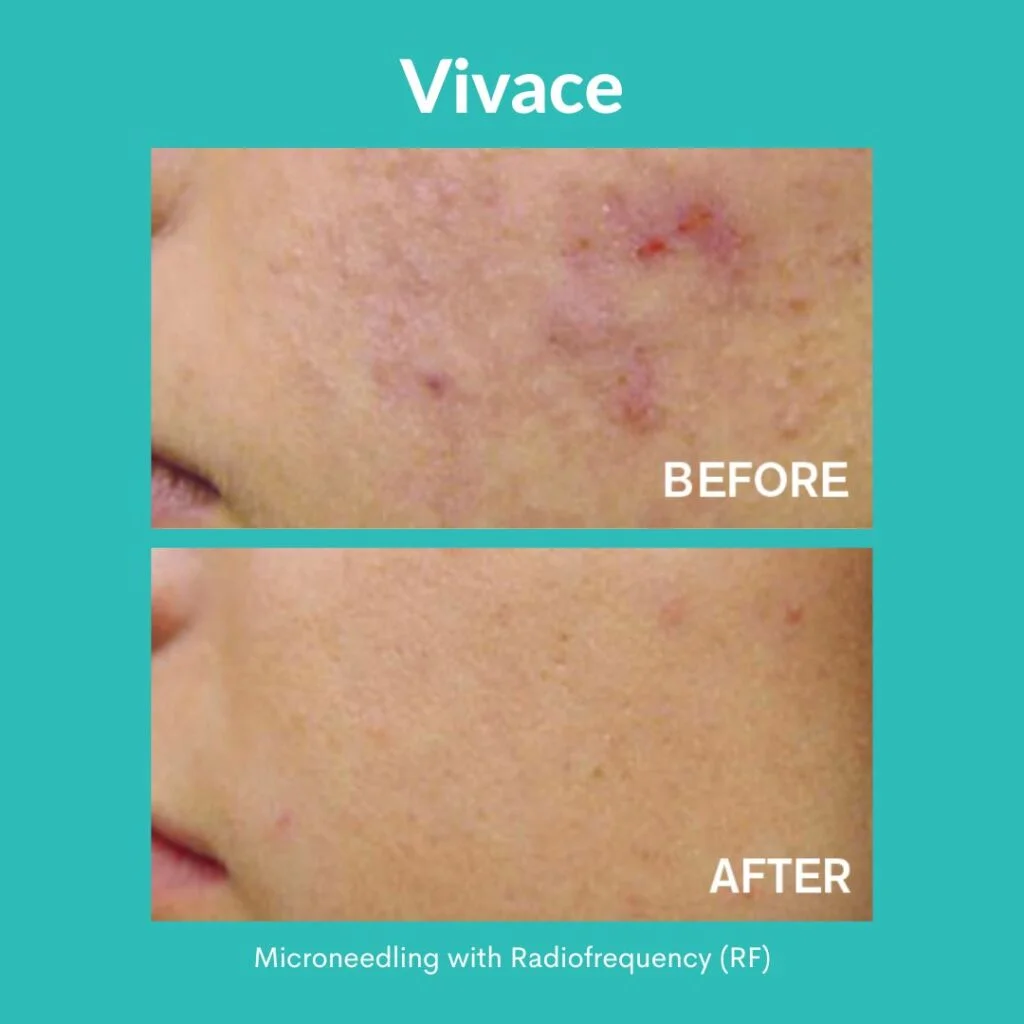 What is recovery like after VIVACE RF?
The Vivace after-care experience ensures reduced pain and redness and a faster return to normal than traditional microneedling treatments.  You may have some minor redness and swelling in the treated area, but this usually fades quickly.
Vivace treatments include a carefully developed recovery system.  It consists of a special serum that is used during the treatment and a cooling peptide mask following the treatment.  The essential amino acids in the serum provide lubrication and ensure a comfortable treatment and successful outcome.  You can also continue to apply the serum at home for better results.  The post-treatment mask contains cooling fluids and nourishing peptides to soothe your skin.  Again, you can use the soothing mask at home for continued benefits.
What should you not do after VIVACE?
You can go back to your normal routine immediately after your Vivace treatment. However, we recommend you avoid vigorous exercise and steam baths for at least 48 hours after your treatment. Excessive exposure to sunlight should be avoided for two weeks after, and retinoids and anti-aging products should be avoided for 5-7 days after your treatment. 
How long does VIVACE RF last?
For the best results, we recommend an initial series of three Vivace treatments spaced four to six weeks apart. After your initial Vivace treatment series, you can maintain your results with single microneedling treatments (either Vivace or regular SkinPen microneedling) every 3-4 months.  
Vivace results are long-lasting.  Your skin continues to make new collagen and elastin for up to six months after an RF microneedling treatment with Vivace. This means you will continue to see improvements in the months following your Vivace session.
Are you ready to experience the VIVACE Microneedling with Radiofrequency? Request your appointment today!