Permanent fat reduction for fullness under the chin (a.k.a "double chin")
Kybella Double Chin Treatment
Are you self-conscious about fullness under your chin? Does a double chin make you look heavier and older than you are? You are not alone. An estimated 7 out of 10 people have the same problem. What if we told you there's an easy way to get rid of fat under the chin? And you won't have to undergo any surgery. We're talking about Kybella, a safe and effective injection treatment for submental fat (fat under the chin). Keep reading to learn everything about this innovative solution for a double chin.
Kybella is an FDA-approved, minimally-invasive, non-surgical treatment that specifically targets fat under the chin. The treatment involves injection in the submental (under-chin) area with deoxycholic acid. Deoxycholic acid is a natural substance produced in our body, specifically our gut, to break down fat.  The entire process takes 15-20 minutes. Because it is a non-surgical treatment, Kybella is a great alternative to liposuction that carries all the risks of a surgical procedure.
You can benefit from Kybella if you have a double chin that has not gone away despite eating healthy and working out regularly. Kybella is the only FDA-approved injectable treatment that addresses this specific problem. No cuts are made in the skin. The downtime is minimal.
Kybella injections contain deoxycholic acid, which is a bile acid that the body naturally produces to absorb fat from the food you eat. A synthetic form of the acid is used to destroy fat cells in the chin area during Kybella treatments. It is important to get Kybella from a licensed, certified provider like the medical providers here at Dermatology Center of Atlanta.  As you can imagine, without the proper training and anatomical expertise, an inexperienced injector could damage parts of the face unknowingly.  In the days following a Kybella treatment, the acid works to kill the fat cells, and the body gradually metabolizes them.
What happens during a Kybella treatment?
If you have an upcoming major event, you should plan your Kybella treatments well before the event date to give yourself time to heal.  You should expect some swelling after a Kybella treatment. 
Your medical aesthetic provider will mark the chin area to identify the injection sites. They may administer local numbing medicine or use an ice pack to reduce the discomfort from the injections. Kybella is injected into specific areas underneath the chin to contour the area and reduce the fullness. 

Top 500
We are one of the Top 500 medical practices in the US for injectable volume

Experience
Our expert medical injectors have years of experience with injectables

Loyalty Program
We participate in Allē, which is the loyalty program for Kybella

Natural Looking
Our goal is not to make you look like someone else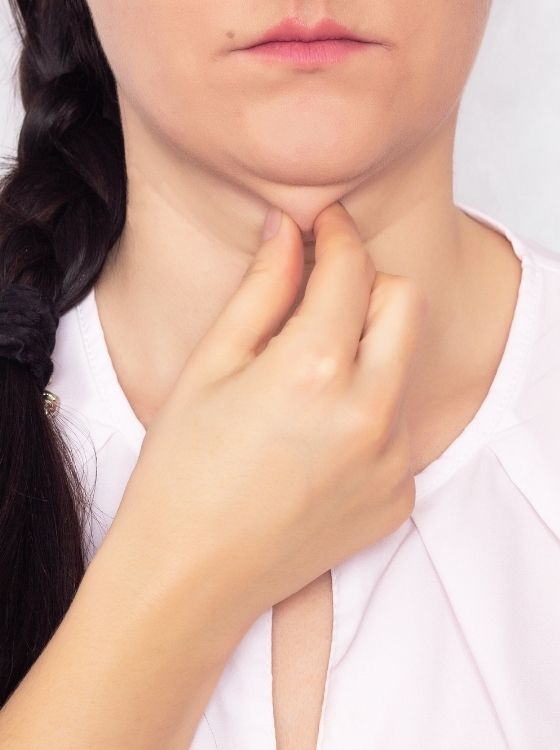 How many Kybella sessions will I need?
It is worth noting that you will probably need multiple Kybella sessions to get the best results. The number of sessions varies from person to person, but you will need to work with one of our experienced injectors to develop a plan to meet your goals. We generally recommend allowing at least a month, sometimes longer, between Kybella treatments to give the body time to absorb the fat that's been destroyed in the chin area.
A clinical trial found that more than 8 out of 10 Kybella patients notice a significant improvement in their appearance after the treatments. The study concluded that Kybella is a safe and effective treatment for fat in the submental area (under the chin).
Once the fat in the submental area is destroyed, it is slowly absorbed by the body and gone forever. Further treatment is not needed, and the results are lasting because there are no fat-storing cells left in the chin.
Are there any side effects?
The most common side effects of Kybella are redness, bruising, numbness, and swelling in the treatment area.  If you are considering Kybella, then you need to plan on having some swelling after the treatment.  In fact, in our experience, the more swelling you have, the better the result.  These symptoms are temporary and usually resolve in a week or two. The recovery from Kybella treatments is minimal. The exact downtime varies from person to person, but most people can return to normal activities relatively quickly.
You can reduce the risk of serious complications by choosing an experienced Kybella provider. At Dermatology Center of Atlanta, we are expertly trained in all injectable treatments, including Kybella. 
How long will the results last?
Results are permanent!  Once a fat cell is destroyed it is gone forever.
Who is a good candidate for Kybella?
Your medical provider will evaluate your face, specifically the chin area, to determine if you are a good candidate for Kybella treatment. During your consultation, you should give the provider all your health history, including medical conditions, current medications, including supplements and prescription medications, and medication allergies. Specifically, it's important to tell them about bleeding problems or swallowing problems and mention if you take any blood thinners or anti-platelet medications. You should also tell them about any surgical procedures you have had in the face, chin, or neck area.
Kybella is not recommended if you're pregnant or nursing because its effects on the unborn baby or its passage into breast milk are unknown. You also should not receive the treatment if you have an infection in the treatment area.
Selecting a provider for Kybella
It's important to choose a licensed, experienced provider for your Kybella treatments. This will ensure you get the best results from the procedure and your risk of side effects and complications is low. Here at Dermatology Center of Atlanta, we have received the distinction of Top 500  with the manufacturers of Kybella, Allergan.  This distinction puts us in the Top 1% of medical practices across the country.