Dermatology Center of Atlanta is in the Top 1% of Voluma-injecting practices in the US. Our injectors love Voluma for its ability to create lift in the face. 
Juvederm Voluma: Non-Surgical Mid-Face Lift
As you grow older, the body makes less collagen and elastin, the proteins that give the skin its structure, volume, and elasticity. As a result, the face can begin to appear less supple, and the tissues can start to sag. Aging particularly affects the fat pads in the cheeks, causing the cheeks to lose their prominence. Flat and hollow cheeks make the face appear tired and old. The aging process also leads to the formation of wrinkles and folds in the skin. A non-surgical, FDA-approved, injectable dermal filler called Juvederm Voluma can help correct these problems, specifically by volumizing and contouring the cheeks.
What is Voluma? How does it work?
Juvederm Voluma is an injectable dermal filler that is composed of hyaluronic acid (HA). Hyaluronic acid is a naturally occurring substance that is present throughout the body and in high concentrations in the skin. Voluma is an FDA-approved filler from the Juvederm family, which also includes other products like XC for the nasolabial folds and Ultra XC for the lips.
Juvederm Voluma is specially designed to restore lost volume in the cheek and chin areas. Injection treatment with Voluma instantly replaces the lost volume that occurs with age in the cheek area. Besides adding volume, the filler encourages collagen and elastin formation, helping to restore the face to a more youthful appearance. What's more, since hyaluronic acid is a hydrophilic substance (it attracts water), Voluma results tend to look better with time because the filler absorbs moisture and gives the skin a more hydrated, supple, smooth appearance.
Where is Juvederm Voluma used?
Voluma is a volumizing filler. It is injected deep into the skin, often at the level of the bone, in the cheek and chin area to increase volume and give the face more definition. Although the filler is placed in the upper cheeks, Voluma can help pull up the lower face as well, thereby improving the nasolabial folds, marionette lines, and jowls.
Before scheduling you for Juvederm Voluma filler treatment, your Dermatology Center of Atlanta medical provider will conduct an in-depth evaluation. During the consultation, you should express what bothers you most about your face in terms of signs of aging. Your provider will then explain possible solutions and treatment options. They will also examine you to ensure the Voluma treatment can be safely performed for your skin type and meet your expectations in terms of aesthetic goals.

Top 500
We are one of the Top 500 medical practices in the US for injectable volume

Experience
Our expert medical injectors have years of experience with injectable fillers

Loyalty Program
We participate in Allē, which is the loyalty program for Voluma

Natural Looking
Our goal is not to make you look like someone else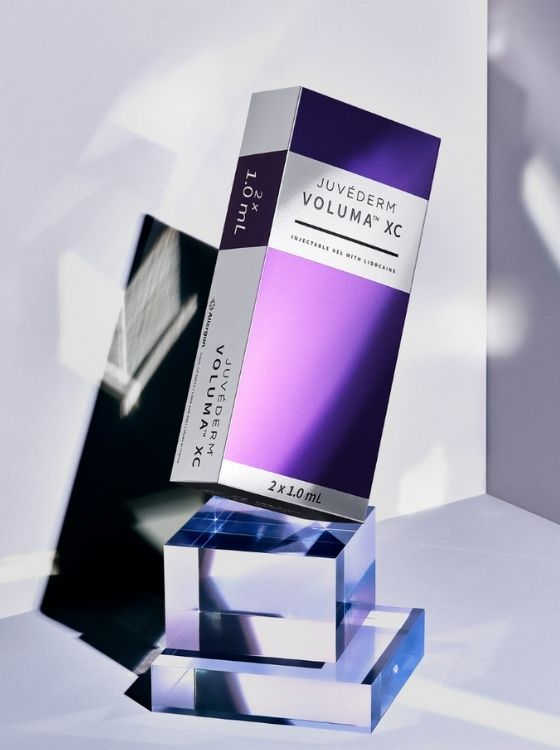 What to expect during Voluma filler injections
On the day of your Voluma filler treatment, your provider will first clean your skin. They may use some numbing cream to reduce discomfort. Voluma XC filler contains lidocaine local anesthetic in addition to the hyaluronic acid, so topical numbing cream is usually not necessary. The treatment itself is relatively short, usually taking 30 minutes or so, and can be done in the office.
There is no downtime after Voluma filler, and you can return to normal activities immediately after the treatment. No specific aftercare is required.  It is a good idea to avoid sun exposure as much as possible and sauna and steam rooms for a couple of weeks. Additionally, you should avoid any treatments such as facial massages that place pressure on the treated area for 7-10 days.
Results of Juvederm Voluma Filler
The reason Juvederm Voluma has been gaining in popularity is the instant restoration of volume, smoothening of lines, and natural-looking results, giving the face a softer, younger appearance. Studies have shown that more than 95% of patients are delighted or happy with the results of Voluma treatment, including the smoothness and cosmetic appearance. Most patients report only minor discomfort during this office procedure for mid-face volume enhancement.
You will notice an immediate improvement in the volume of your cheeks after your Voluma filler treatment. However, the full effects will be visible after around 2 weeks when the filler has settled, and any minor swelling and redness have resolved. Results after Voluma treatment are long-lasting but not permanent. On average, Juvederm Voluma XC lasts for up to 2 years. The duration of the filler correction can vary from person to person and depends on the rate of breakdown of the filler in a person's body.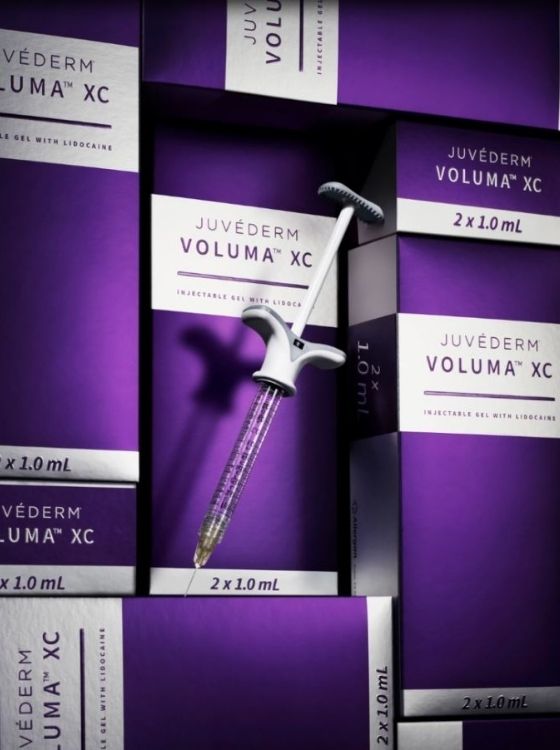 Juvederm Voluma is a minimally-invasive procedure. It is very safe when performed by a licensed and experienced provider. However, like any treatment, it does carry some risks. The most common side effects after Voluma filler are some temporary redness, mild pain, itching, and swelling at the injection sites.
Voluma cheek treatment may not be suitable for you if you have allergies to hyaluronic acid or any of the other components of the filler. Also, filler treatments are not recommended in women who are pregnant or breastfeeding. If you are taking medications like blood thinners or NSAIDs (ibuprofen), talk to your doctor because these drugs can increase the risk of bruising and bleeding complications.
Your Dermatology Center of Atlanta medical provider can help you figure out whether Juvederm Voluma is the best treatment option for you. It is worth noting that a combination of different fillers can often be used in the same patient to achieve more aesthetically pleasing and natural-looking results. While younger patients may achieve excellent results with Voluma filler alone, older patients may require Voluma and other treatments like laser skin resurfacing or Botox to achieve complete facial rejuvenation.