At Dermatology Center of Atlanta we're always at the forefront of cutting-edge cosmetic injectable solutions. We're thrilled to present the latest addition to our suite of dermal filler treatments, the game-changing Juvéderm VOLUX.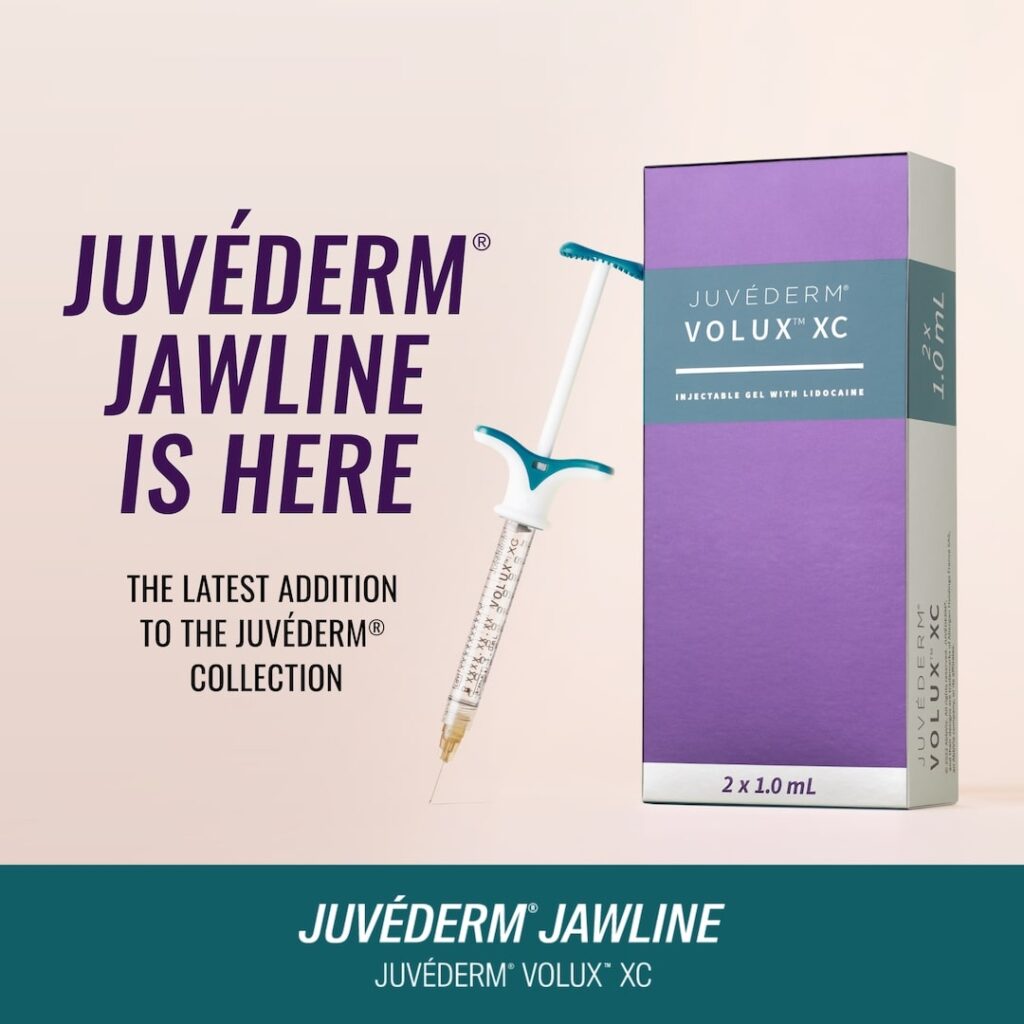 Experience the Power of Contour with Juvéderm VOLUX at Dermatology Center of Atlanta
Juvéderm VOLUX™ XC is the first and only FDA-approved hyaluronic acid filler for improving lost jawline definition, so you can achieve a more contoured jawline and love your look from every angle! Juvéderm VOLUX™ is a unique dermal filler, expertly designed for enhancing and reshaping the chin and jawline. If you're looking to redefine your facial contours and create a more youthful, balanced look, this is the treatment for you!
Get Snatched! The Importance of a Defined Chin and Jawline
The chin and jawline are integral to the overall harmony of the face. They provide structure, symmetry, and balance. A well-defined chin and jawline can make a significant impact on your overall appearance, imparting an impression of strength, youth, and vitality.
As we age, our skin loses its elasticity, and our facial bones can shift, leading to a less defined chin and jawline. Juvéderm VOLUX™ offers a solution to restore this lost volume, resulting in a more youthful and structured facial profile.
Juvéderm VOLUX™ XC was formulated with unique gel properties designed specifically for jawline definition. Whether you're looking to minimize sagging jowls or enhance your natural contour, VOLUX™ has the highest lift capacity of any FDA-approved jawline filler. 
Why Choose Juvederm VOLUX at Our Johns Creek Dermatology Practice?
Choosing Juvéderm VOLUX™ at Dermatology Center of Atlanta in Johns Creek is more than just selecting a dermal filler; it's deciding to invest in a product designed to deliver robust, natural-looking results. The consistency of Juvéderm VOLUX is designed to add structure where it's needed most, shaping and maintaining definition over time. For your comfort, Juvéderm VOLUX™ contains lidocaine, a local anesthetic that ensures a smoother treatment experience.
At the Dermatology Center of Atlanta, our expert injectors have more than 25 years of experience administering cosmetic filler injections. Dermatology Center of Atlanta are is an Allergan TOP 250 practice, putting us in the top 0.01% of cosmetic injectable practices in the country. With just one location, this is quite an accomplishment! (Allergan is the parent company to Botox, Juvederm, Voluma and more!)

Experience
Our expert medical injectors have years of experience with Botox and fillers

Natural Looking
Our goal is to enhance your beauty, not to make you look like someone else
Experience the DCA Difference
As a leading dermatology practice in Johns Creek, Georgia, we are committed to providing the best skin health and beauty services to our clients. Our experienced team of dermatologists and cosmetic clinicians is dedicated to customizing treatments to your unique needs, ensuring you leave our practice feeling confident and rejuvenated.
At DCA, we always do our best to make sure that our first-time filler patients get the absolute best start to their Juvéderm journey! We take great pride in providing comprehensive evaluations, clear education, and conservative treatment options.
Our goal is always to get amazing, natural-looking results with fillers! When it comes to filler, the DCA philosophy focuses on a conservative approach, and we take great pride in performing extensive evaluations and providing thorough patient education. Our success is due to our years of experience, thorough training, and our dedication to conservative, natural-looking results.
To learn more or to book a consultation, contact us today! Let us help you accentuate your natural beauty and redefine your look with Juvéderm VOLUX.
Are you ready to love your look from every angle with Juvéderm VOLUX? Request your appointment today!