Say GOODBYE to shaving, waxing, and tweezing
Laser Hair Removal: What you need to know
When it comes to getting rid of unwanted body hair, you've got options. You can shave, but the hair comes back in a few days. You can use depilatory creams, but the smell can be off-putting. Waxing gets rid of hair for weeks but is a painful process and can make your skin itchy. Longer-lasting options like electrolysis are painful and time-consuming, which brings us to laser hair removal. It's a semi-permanent method that can minimize hair growth for a long time after just a few sessions. Keep reading to learn everything there is to know about laser hair removal and why it might be a good choice for you.
What is laser hair removal?
Laser hair removal is a procedure that uses a concentrated beam of light to target the melanin (pigment) in the hair follicles (the thin tube-like structures in the skin from which hair grows). The laser burns and destroys the hair root, thereby delaying or stopping hair growth. After a few laser hair removal sessions, you can say goodbye to waxing appointments and throw away your razor for good.
Advantages of laser hair removal
One of the key advantages of laser hair removal is that it is a semi-permanent hair removal method. After just 3-7 treatments, you can enjoy a stubble-free life, saving time and money on shaving, waxing, tweezing, threading, and plucking.
What's more, laser hair removal can be performed on large parts of the skin, including the arms and legs. The process itself is relatively quick, requiring only a few minutes for smaller areas such as the upper lip and 45-60 minutes for larger parts such as the arms or legs.
How permanent is laser hair removal?
While laser hair removal is long-lasting, it does not 100% prevent hair re-growth in the future. That's why we call it semi-permanent. The destruction of the hair follicles by the laser energy means that hair growth is delayed for a long time. How long exactly is difficult to say and varies from person to person. For example, hormonal fluctuations can affect hair growth. Some people don't have any hair growth for months, while others enjoy reduced hair growth for years. What you need to know is that laser hair removal is significantly longer-lasting than other methods of hair removal like waxing, shaving, and tweezing.

Award Winning
We are an award winning dermatology practice that specializes in aesthetic medicine.

Experience
Our expert medical providers have years of training and hands-on experience.

Packages & Promotions
We offer package pricing and routinely offer special promotions on most of our aesthetic services.

Natural Looking
Our goal is not to make you look like someone else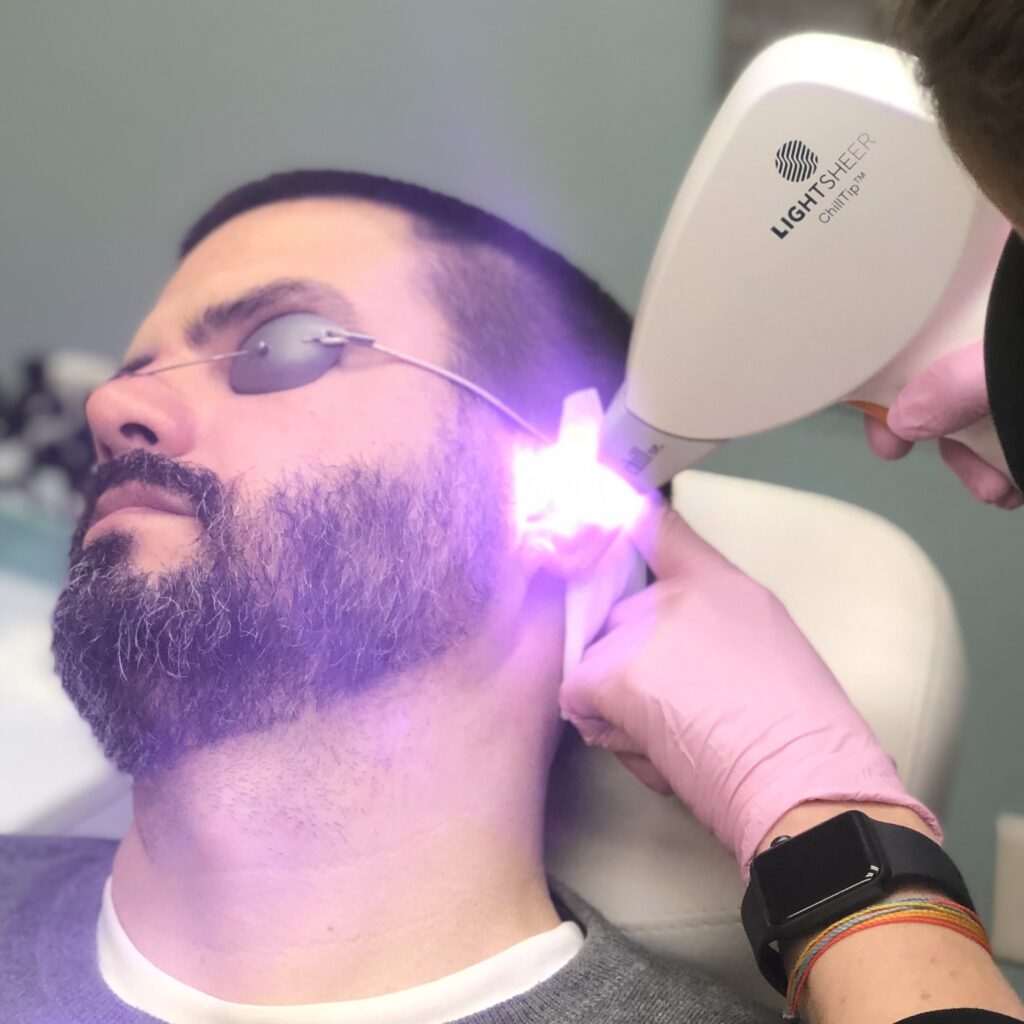 Who is a good candidate for laser hair removal?
With a few exceptions, laser hair removal can be performed on all skin types and colors. However, because the laser targets melanin in the hair follicles, people with light skin and dark hair achieve the best results. Light skin and dark hair make it easy for the laser to pick out the pigment in the hair follicles and selectively destroy the hair root without damaging the surrounding skin.
This does not mean, however, that people with dark skin cannot get laser hair removal. Newer laser technologies have made laser hair removal effective even in those with dark skin or light hair.
On what parts of my body can I get laser hair removal?
You can get laser hair removal done on your chin, upper lip, armpits, arms, back, chest, bikini line, and legs. A laser can be used to reduce hair growth on essentially any part of the body except the delicate eye area. Laser hair removal cannot be done on tattooed skin.
Before laser hair removal
It's important to choose a board-certified dermatologist for your laser hair removal. This will lower your risk of complications and ensure you get the expected results. It's a good idea to avoid spas and salons offering laser hair removal at rock bottom prices. At these businesses, non-medical personnel usually perform the treatments without physician supervision.
At the time of your consultation, your provider will review your health history, medications, and allergies. You may need to temporarily stop taking certain medications like aspirin or blood thinners which can increase the risk of bleeding. You should tell our providers about any previous hair removal procedures you have undergone. Pre-treatment photos will be taken for comparison.
Preparing for laser hair removal
Once you have a laser hair removal session scheduled, avoid sun exposure as much as possible. Use protection with SPF30 sunscreen or higher when you go outdoors. You should also avoid products like scrubs, peels, retinol creams, and tanning creams in the days leading up to your appointment. Your provider may advise using bleaching cream to clear a tan – this can help make the laser treatment more effective. You will also have to avoid other hair removal methods like waxing for 4 weeks before your laser appointment (the hair follicle needs to be left undisturbed). Your provider may advise trimming or shaving on the day before your appointment to get rid of surface hair.
How many treatments will I need?
You will need 3-7 sessions to get the best results from laser hair removal. However, you'll start to notice a reduction in hair growth 2-3 weeks after the first treatment. You must wait 4-8 weeks between sessions to catch hair in various stages of growth. In some areas like the back, you may need to wait longer as hair growth here is slower. Keeping up with your laser hair removal appointments is important to get good results. This ensures every hair follicle gets zapped by the laser sooner or later.
How painful is laser hair removal?
Laser hair removal is not painful. For most people, it feels like a pinprick and warmth in the skin. Your provider may use a cooling device or numbing medicine to reduce discomfort.
Exposure to heat can make you break out after laser hair removal, so you'll be advised to avoid hot showers, saunas, and the gym for the first 24 hours. Also, avoid sun exposure as much as possible before and after your laser treatments.
You may need to modify your skincare regimen slightly as your skin can be dryer after laser hair removal.
Between sessions, you can shave to get rid of surface hair, but you can't wax or pluck or use any method that removes hair from the root.
Is laser hair removal safe?
The laser is a precise device that targets the hair, leaving the adjacent skin unharmed. Therefore, laser hair removal is a safe procedure when performed by a licensed and experienced provider.
The most common side effects of laser hair treatments are temporary redness and swelling. This minor skin irritation usually resolves in a few hours. Other side effects include pigmentation changes, which are usually temporary but can be permanent. Reducing sun exposure before and after laser treatments can reduce the risk.