 A new innovation in body contouring – Cooltone is a non-invasive treatment that uses Magnetic Muscle Stimulation (MMS) to strengthen and tone muscles in the abdomen, buttocks, and thighs.
CoolTone Non-Surgical Body Contouring
Non-surgical body contouring involves several different factors when developing a treatment plan.  One of the most important factors to address is the underlying muscle and the effect it has on the shape of the body in that area.  The amazing news is there is a procedure that can address this factor with no downtime and no surgery involved. Keep reading to learn more about CoolTone, the innovative body contouring treatment from Allergan, the people who brought us Botox and CoolSculpting.
CoolTone is a new FDA-cleared technology that uses magnetic muscle stimulation (MMS) to tone, firm, and strengthen muscles. It is approved for use in three specific areas of the body – the buttocks, thighs, and abdomen. 
A toned look can be difficult to achieve, even with regular exercise and training. Cooltone is all about transforming your abs, butt, and thighs for a firmer, more defined look. CoolTone uses Magnetic Muscle Stimulation technology to selectively target muscle tissue and trigger powerful muscle contractions that your body could not otherwise achieve on its own. With CoolTone, you'll notice a new level of tone and strength – making it an awesome addition to your workout or the perfect way to jumpstart your fitness routine.
CoolTone is a non-invasive body contouring treatment that only takes 30 minutes each session and is administered over your clothes. It is designed to enhance your conditioning and wellness goals, and to help you achieve a sculpted, toned, firmer body.
Despite the name, CoolTone does not involve freezing or burning fat cells. It uses magnetic energy to activate the muscles. The CoolTone device causes rapid involuntary movements of the muscles. The body responds to these movements by strengthening the muscle fibers in the treated area. This ultimately helps to build strength and improve tone in the muscles. CoolTone treatments are FDA-cleared for three separate areas – the abdomen, thighs, and buttocks.
What's the difference between CoolTone and CoolSculpting?
CoolTone is a new body contouring technology from the same people who brought us CoolSculpting. The main difference between CoolTone and CoolSculpting is in the type of cells they target. CoolTone targets muscle cells, whereas CoolSculpting targets fat cells in the body. Therefore, CoolTone is recommended for people who are looking for more muscle definition. CoolSculpting, on the other hand, is more appropriate for those who want fat loss in target areas.

Award Winning
We are an award winning dermatology practice that specializes in aesthetic medicine.

Experience
Our expert medical providers have years of training and hands-on experience.

Packages & Promotions
We offer package pricing and routinely offer special promotions on most of our aesthetic services.

Natural Looking
Our goal is not to make you look like someone else
What happens during a CoolTone treatment?
Each CoolTone treatment takes 30 minutes during which the CoolTone machine uses MMS technology to make your muscles involuntarily perform a series of muscle contractions in a specific pattern of intensity. 
CoolTone treatments are not painful. During treatment, you will feel strong muscle contractions and tapping sensations – not pain.
Your DCA provider will remain in the room with you throughout the treatment and together you will gradually increase the intensity of the contractions based on your comfort level.
How many CoolTone sessions will I need?
Anecdotal evidence suggests that patients start feeling stronger in their core after just one CoolTone treatment. However, clinical studies have found that most people benefit from an initial series of 6 CoolTone treatments per area, at a rate of 2 sessions per week. After the first 6 treatments, regular CoolTone treatments are recommended to maintain your results. The frequency of maintenance treatments is based on your individual fitness level and goals. 
How long do CoolTone results last?
CoolTone results are not permanent, but they can last for a long time. Like muscle-building exercises and weight training in the gym, the increase in muscle mass obtained with CoolTone can last for 6 months or more. To preserve the results, patients are advised to continue eating a healthy diet, get regular exercise, and return for maintenance CoolTone treatments.
Are there any side effects?
Potential side effects include temporary muscle, joint, or tendon pain, muscle spasm, or redness in the treatment site. These symptoms are usually short-lived and resolve in the days following CoolTone treatment.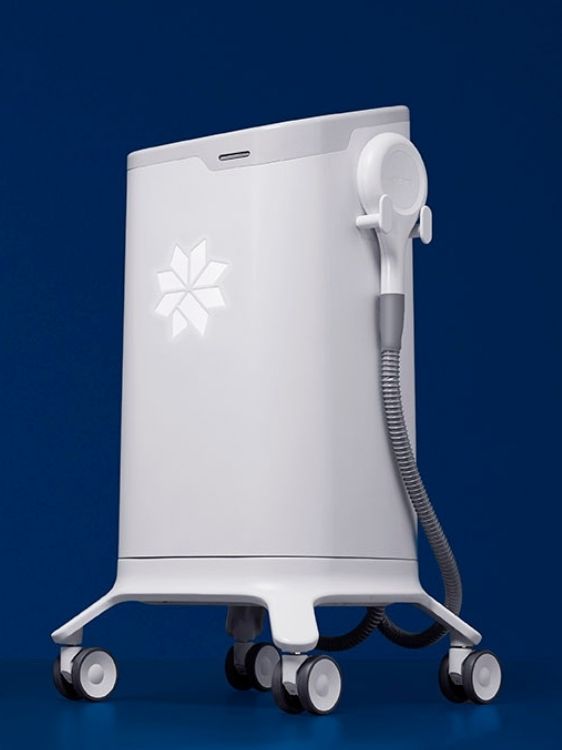 Who is a good candidate for CoolTone?
Anyone who wants a firmer, toned body and more muscle definition in their belly, thighs, and butt can benefit from CoolTone. However, the treatment is not appropriate for everyone. People who have metal implants or electronic devices like cardiac pacemakers, defibrillators, hearing devices, hearing aids, neurostimulators, or drug pumps cannot get a CoolTone procedure in the area.
Selecting a CoolTone provider
It's important to choose a licensed, certified aesthetic provider for your CoolTone treatments to ensure you get the best results and minimal to no side effects or complications. Here at Dermatology Center of Atlanta, we specialize in non-surgical body contouring and have treated hundreds of patients in our Advanced BodySculpting Center.  We offer both CoolSculpting and CoolTone in our Advanced BodySculpting center, and our body contouring specialists can develop a comprehensive treatment plan to help you achieve real results. 
Request a FREE consultation today!