We are ranked in the Top 1% of practices in the US by Allergan, the manufacturer of Volbella.  We perform more injectables than 99% of medical practices in the country.
Juvederm Volbella: Natural-Looking Lip Filler
As you have gotten older, you may have noticed that your lips have gradually lost their plumpness and smoothness. You may have also developed vertical lines, commonly called smoker's lines, around the mouth. These age-related changes can make you look older than you are and give your face a tired, haggard appearance. What if we told you there's an FDA-approved, office-based treatment for these problems?
A surprisingly simple injection treatment can give you a more refreshed and youthful appearance with natural-looking results that will last for up to a year. Results that everyone will notice without realizing you've got something done. We're talking about Juvederm Volbella, a facial filler that is specifically designed to address signs of aging in and around the lips. Keep reading to learn more about this innovative treatment.
What is Juvederm Volbella? How does it work?
Volbella is a product from the Juvederm line of dermal fillers made by Allergan. It is a clear injectable gel that contains hyaluronic acid (HA). HA is found throughout the body's connective tissues and is present in large quantities in the skin. What Volbella does is essentially replace lost volume and fills lines and wrinkles with a substance that is naturally found in the body. By injecting hyaluronic acid fillers like Volbella, our expert injectors can provide immediate correction of volume loss and lines around the lips with long-lasting effects. What's more, since HA is a hydrophilic substance, it pulls moisture into the treated area, giving the skin a hydrated, smooth, youthful look.
Which parts of the face is Volbella used?
Volbella is thinner and finer compared to other fillers in the Juvederm family-like Voluma and Vollure. It is injected superficially to correct problems like prominent nasolabial folds, marionette lines, and fine lines around the mouth.
Volbella is a versatile facial filler and can be used to subtly improve the appearance of the lips. It is especially effective in plumping the lips for a smoother, more hydrated look. It also adds definition to the lips. Volbella can help soften vertical lines (smoker's lines) around the mouth.
If you have concerns in other areas of the face in addition to the lips, Volbella can be used in combination with other dermal fillers to provide complete facial rejuvenation. Our expert team of medical injectable specialists will discuss your goals with you and recommend the appropriate filler products.
Who is a good candidate for Volbella?
The Juvederm line of facial filler products, including Volbella, is approved for use in adults over the age of 21. Volbella is safe for use in most skin types and all skin colors. Anyone who has developed age-related volume loss and lines around the lips can benefit from Volbella injectable treatment.
Dermal fillers like Volbella are not recommended in people with active skin infections or acne. If you have a history of oral herpes (cold sores), your provider may give you a prophylactic (preventive) medicine before the Volbella injection to prevent a breakout.
You are not an appropriate candidate for Volbella treatment if you have allergies to any of the ingredients in the product or have multiple severe allergies. Women who are pregnant or breastfeeding are usually advised to wait until they have delivered and stopped lactating before undergoing filler treatments.

Top 500
We are one of the Top 500 medical practices in the US for Juvederm volume

Experience
Our expert medical injectors have years of experience with injectable fillers

Loyalty Program
We participate in Allē, which is the loyalty program for Volbella

Natural Looking
Our goal is not to make you look like someone else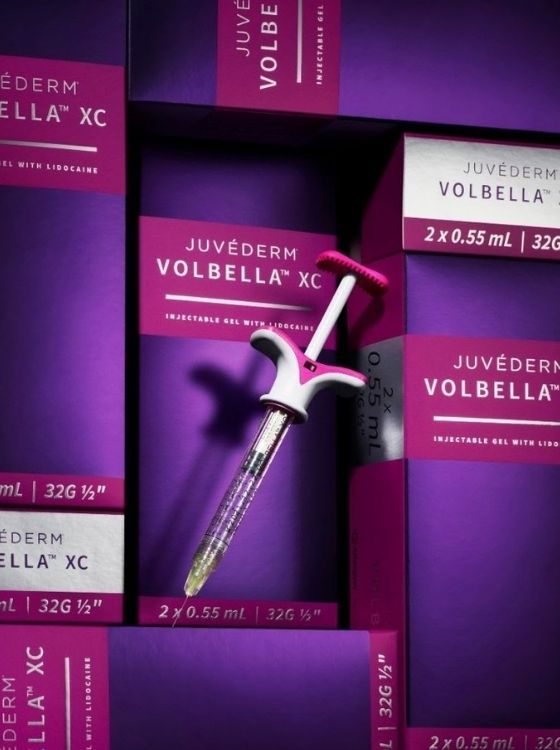 Is Volbella treatment painful?
As soon as one mentions injections in the face, people imagine the worst and think it is going to be a very painful treatment. This couldn't be further from the truth. Volbella and other dermal fillers from the Juvederm line of products all contain lidocaine, a local anesthetic agent, along with hyaluronic acid. This ingredient makes the injections quite comfortable for patients. Your provider can also use topical numbing cream on the skin before the treatment to make it even more comfortable for you. Most patients report minimal discomfort during the Volbella treatment and describe the sensation more like pressure rather than pain.
How do I prepare for the appointment?
You should arrive for your Volbella appointment with a clean, makeup-free face. There is no other special preparation required.
What to expect during the Volbella appointment?
Your provider will clean your face with an antiseptic solution to reduce the risk of infection since Volbella involves injections. The injections themselves take 15-30 minutes.
How long will Volbella results last? How many treatments will I need?
You will notice an immediate improvement in the skin around your lips as well as in the contour and fullness of your lips after Volbella. The effects will continue to improve over the next week or so as any minor swelling subsides. You need only a single Volbella treatment. However, the body naturally breaks down the filler over time. For this reason, you will ultimately have to return for repeat Volbella to maintain the results. Most patients report they do not need to return for injections for at least 1 year. However, the duration of the Volbella results can vary from person to person, depending on how quickly the body breaks down the filler. In a nutshell, Volbella results are long-lasting but not permanent.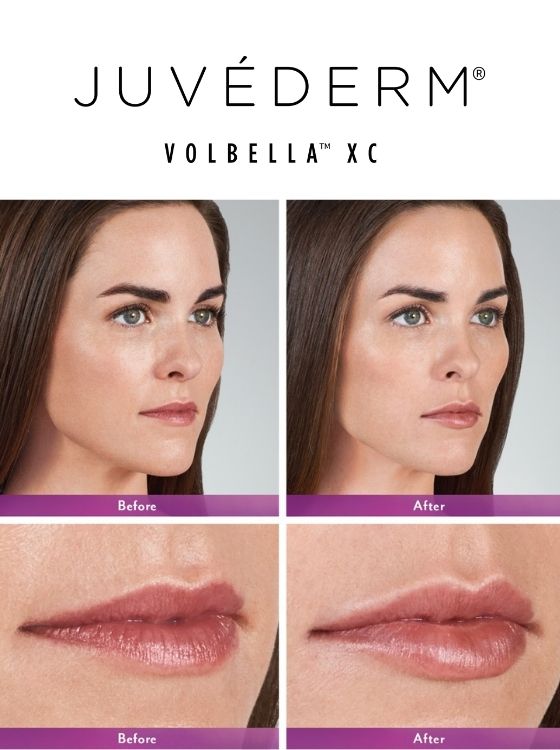 What will I need to do after Volbella treatment?
There is no special aftercare required. However, your aesthetic provider will recommend that you avoid excessive sun and heat exposure (saunas, steam rooms, and hot tubs) for 24 hours to prevent swelling, redness, and itching at the injection sites. You can use ice packs on the treatment area to relieve any minor soreness.
Volbella is a safe and effective treatment when performed by a licensed provider with expertise in dermal fillers, like our team at Dermatology Center of Atlanta. Your medical provider will review your medical history, medications, and allergies to determine any potential contraindications to Volbella.
The most common side effects from Volbella are injection-related and usually consist of temporary swelling, redness, itching, and soreness. These symptoms usually resolve in a few days without any specific treatment.