 Microneedling utilizes the body's natural healing response to create new collagen and elastin, giving your skin a smoother,  healthier apperance.
Microneedling: The Natural Way to Turn Back the Clock
As you grow older, your skin changes. You start to notice fine lines and wrinkles, brown and red spots, uneven texture, and dry skin. Your skin also loses its natural plumpness and smoothness with age. Some of the main causes of your skin aging include exposure to the sun, environmental pollutants, and cigarette smoking.
Many skincare products and treatments are available to reduce some of the visible signs of aging, revitalize your skin, and restore your natural glow. One of our favorite treatments to keep your skin glowing all year round is microneedling. Continue reading to learn more about microneedling, including how it works, what it involves, and how much it costs.
How does microneedling work?
Microneedling is a skin treatment that dermatologists use to address many different skin concerns. In our Advanced SkinCare Center, we use an FDA-approved medical device called a SkinPen that uses 14 medical-grade stainless steel blades to create 1600 micro-channels per second on the surface of your skin.
While it sounds counterintuitive to injure the skin, microneedling causes controlled micro-trauma, which is actually beneficial. This is because the treatment slightly injures the skin, prompting it to heal. The SkinPen microneedling procedure induces a wound-healing cascade that ultimately results in remodeled tissue and increased collagen and elastin. In other words, microneedling jumpstarts the skin's natural healing mechanisms, which leads to an increase in collagen production.
Collagen is the skin protein that gives it structure and a smooth, youthful appearance. With age, the amount of collagen in the skin decreases. By promoting renewed collagen growth, microneedling helps to reduce many of the common signs of aging. The newly formed collagen improves the tone and texture of the skin and makes the skin appear firmer, brighter, and more youthful.
What are the benefits of microneedling?
Microneedling is a minimally invasive procedure. This means there is minimal downtime associated with the treatment. Typically, most individuals can go back to daily routines within 24 hours. You may, however, have some minor skin redness and irritation for a few days after microneedling.
THE BENEFITS OF SKINPEN MICRONEEDLING INCLUDE:
Reduced appearance of fine lines & wrinkles
Younger-looking skin with fewer signs of aging
Reduced appearance of hyperpigmentation
Improved appearance of acne scars
Overall fresher appearance or glow to the skin
Another key advantage of microneedling is that it is quick and convenient. The total procedure time is under 1 hour, and most individuals can get in and receive a treatment, then return to their normal busy lives.

Award-winning
We are an award-winning dermatology practice that specializes in aesthetic medicine.

Experience
Our expert medical providers have years of training and hands-on experience.

Packages & Promotions
We offer package pricing and routinely offer special promotions on most of our aesthetic services.

Natural-looking
Our goal is not to make you look like someone else.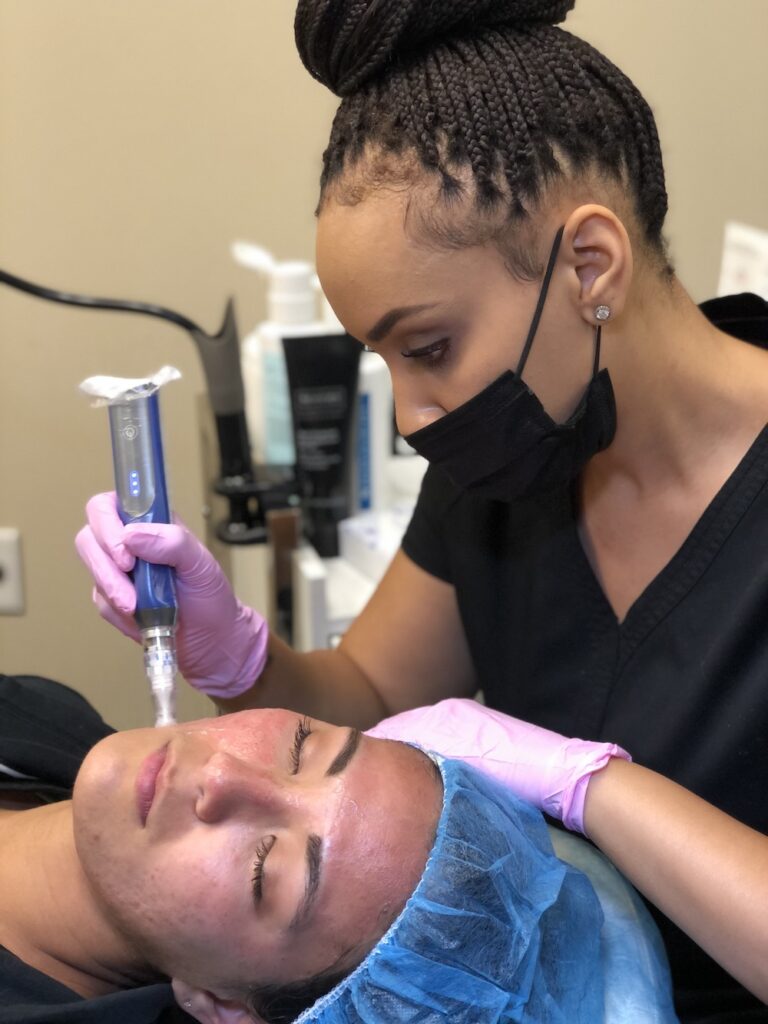 What is microneedling used to treat?
Microneedling is primarily performed on the face to correct signs of aging. However, it can be performed on other parts of the body to improve the appearance of scars and stretch marks. Some of the skin concerns that can benefit from microneedling include:
Fine lines and wrinkles
Sunspots and age spots
Enlarged pores
Uneven tone
Reduced skin elasticity
Acne scars and surgical scars
Stretch marks
Does microneedling really work?
Microneedling is effective in treating mild to moderate wrinkles. It can also improve the appearance of minor scarring due to acne or surgery. Most people notice that their skin is brighter and fresher looking after microneedling. However, it is worth noting that most people require a series of multiple microneedling sessions to get the optimum results.
What does microneedling feel like?
When you arrive at the Advanced SkinCare Center, one of our providers will clean your skin and apply a topical numbing cream, so you don't feel any pain during your microneedling treatment. You will feel vibrations from the device, but that's it. Before you go home, your provider will apply protective skincare products and give you detailed post-care instructions to take home.
How long does it take to heal from microneedling?
Like every cosmetic procedure, microneedling carries some risks. The most common side effects of the treatment are minor skin irritation and redness that usually resolve on their own.
Redness after microneedling typically calms down within 24 hours. Many people can go back to work immediately after the procedure (you can camouflage any redness with make-up). Remember, however, that the skin is sun-sensitive after microneedling, so you should be diligent about using sunscreen when you step outdoors.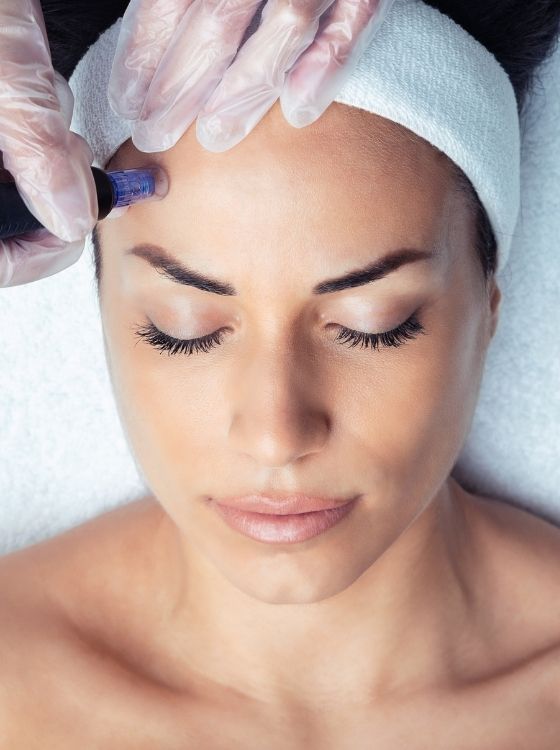 How soon after microneedling will I see results?
You will see results pretty quickly after your microneedling session, typically within a couple of weeks. Your skin will continue to improve over the next several weeks as new collagen is generated.
Again, you will need multiple microneedling sessions to get the best results. The number of sessions will depend on the condition of your skin and your treatment goals. Your doctor will discuss the treatment plan with you and suggest the appropriate number of microneedling treatments at the time of your initial consultation.
Am I a candidate for microneedling?
Microneedling is appropriate for all skin types and skin tones. You are likely a good candidate for microneedling if you are in overall good health. However, microneedling is not recommended in pregnant women or in people who are using certain acne medications.
If you have tried anti-aging creams and lotions and at-home dermarollers without much improvement in your skin, microneedling is definitely worth a try. Professional microneedling at a Dermatologist's office is far more effective than home treatments. This is because home rollers create very little trauma to the skin (for safety purposes), which means the results are not that noticeable. During professional microneedling, your Dermatology Center of Atlanta provider creates precisely controlled trauma that generates new collagen in the skin and gives more dramatic results.
Like many people, if you are not quite ready for more aggressive cosmetic treatments such as facelift surgery, microneedling could be a great option for you. As noted, it is a minimally invasive office procedure with essentially no downtime.
Microneedling: The Bottom Line
Microneedling can give you dramatic skin rejuvenation, far superior to most home treatments like store-bought rollers or anti-aging creams and lotions. It is a minimally invasive office treatment that is fast and convenient with minimal downtime, so that's an advantage compared to more aggressive treatments like facelift surgery. Microneedling does not involve the injection of any chemicals or foreign substances into the body. This makes microneedling the ideal choice for anyone who wants noticeable long-term improvement in their skin with an office-based procedure that is safe and effective.
Ready to try microneedling?
Call (770) 497 0699 or fill out the form below to schedule your first microneedling treatment in the DCA Advanced SkinCare Center today!