Juvederm Ultra & Ultra Plus
From the Juvederm Collection of fillers.
Juvederm Ultra and Ultra Plus: Hyaluronic Acid Dermal Fillers
As we grow older, the fat, muscles, and skin of the face become thinner. There is a loss of volume due to a decrease in subcutaneous fat, giving the face a sunken, aged, and tired appearance. Sun damage and age-related changes in the skin lead to the formation of fine lines, wrinkles, folds, and creases. Hyaluronic acid fillers like Juvederm can help correct these problems and restore a more youthful appearance to the face.
Hyaluronic acid is a naturally occurring substance that is found in high concentrations in the skin. It is a hydrophilic substance, meaning it attracts water, thereby giving the skin a hydrated, plump, and smooth appearance. Juvederm is the brand name of a hyaluronic acid dermal filler. It comes in various types. The effects of Juvederm treatments are visible immediately. Learn more about Juvederm and what it can do for you.
What is Juvederm? How does it work?
As noted, Juvederm is a temporary dermal filler that contains a modified form of hyaluronic acid. It is a smooth gel-like substance that delivers volume to the skin. The Juvederm family consists of various products that are designed to address many of the common signs of aging, such as age-related volume loss and facial wrinkles. Juvederm products contain varying concentrations of hyaluronic acid to target specific problems in different areas of the face.
Dermal fillers like Juvederm work by adding volume to the facial tissues. The active ingredient in Juvederm, hyaluronic acid (HA), is a natural substance that is found throughout the connective tissues of the body. It gives the skin a plump, smooth, hydrated appearance. HA also stimulates collagen production in the skin. Collagen is a structural protein that makes the skin appear smooth. With age, the amount of collagen in the skin decreases, leading to sagging and wrinkling. By stimulating collagen production, hyaluronic acid Juvederm fillers help restore the face to a more youthful appearance.
Target Areas: Where is Juvederm used?
Juvederm can be used in the cheeks, around the mouth and nose, and in and around the lips. The dermal filler injections can be placed at varying depths and locations to address specific problems.
Juvederm Ultra and Ultra Plus: Similarities and Differences
Both Juvederm Ultra and Ultra Plus are used to treat facial lines and wrinkles. However, Juvederm Ultra Plus is a thicker gel. Ultra Plus is, therefore, recommended for areas of the skin with deeper lines and greater volume loss, such as the cheeks, nasolabial folds, and smile lines. Juvederm Ultra, on the other hand, is a thinner and lighter gel, making it more appropriate for fine lines and wrinkles that are more superficial. Ultra is, therefore, recommended for injection around the eyes and lips.
The availability of a range of products in the Juvederm family makes it possible for aesthetic providers to completely customize the treatment for a patient by matching the best product to the patient's skin concerns. A combination of Juvederm filler products can be used to smoothen and fill out the face, creating a naturally beautiful and youthful look.

Award Winning
We are an award winning dermatology practice that specializes in aesthetic medicine.

Experience
Our expert medical providers have years of training and hands-on experience.

Packages & Promotions
We offer package pricing and routinely offer special promotions on most of our aesthetic services.

Natural Looking
Our goal is not to make you look like someone else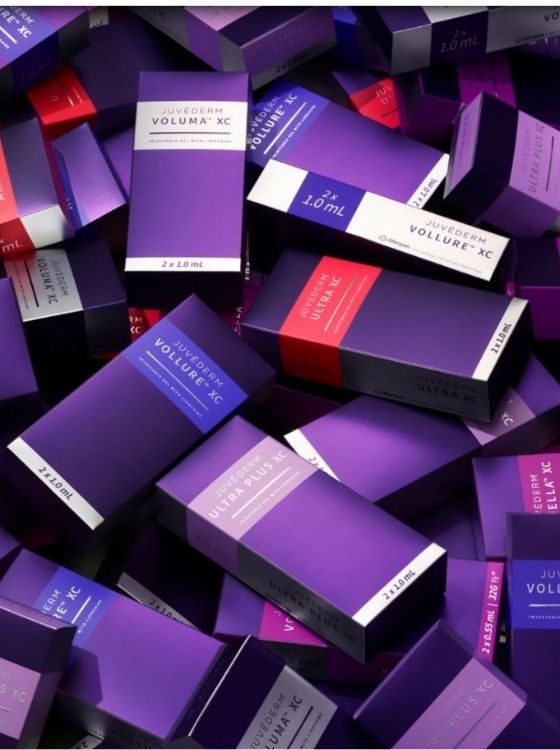 Juvederm Voluma XC is used to correct volume loss in the cheek area. It can also augment the chin region to give the face a sharper, more defined profile.
Juvederm Ultra XC gel injections are used for lip augmentation, for example, to create a more prominent pout.
Juvederm Volbella XC is a hyaluronic acid filler for lip augmentation and correction of lines around the mouth.
Juvederm Vollure XC and Juvederm XC are hyaluronic acid gels that are used to correct moderate to severe wrinkles in the face, including the nasolabial folds.
It is important to get Juvederm injections from an experienced aesthetic provider, like our injectors at Dermatology Center of Atlanta. The treatments are minimally invasive and can usually be offered on the same day if you are deemed an appropriate candidate.
There is no special preparation required before Juvederm dermal filler treatments. Patients who are on blood-thinning medications or NSAIDS like ibuprofen may need to stop using them for a few days leading up to the injections because these medications can increase the risk of bruising. It is also a good idea to avoid alcohol before scheduled Juvederm injections. Smokers should do their best to quit for at least a few weeks to reduce the risk of complications.
What to expect during Juvederm treatment?
Our expert injectors will clean the skin of your face and apply numbing cream to reduce any chance of discomfort. They will then inject the Juvederm into the target areas and lightly massage the area to distribute the medication evenly and reduce swelling. The entire process usually takes under 30 minutes, sometimes more if larger or multiple areas of the face are being treated at the same time.
If you are anxious about pain with Juvederm treatments, you should know that the injections contain a small amount of local anesthetic (lidocaine). This helps to minimize any discomfort you may experience from the Juvederm injections.
Recovery following Juvederm dermal filler
The recovery time after Juvederm filler treatment is minimal. Your doctor will advise you to avoid sun exposure and strenuous exercise for the first 24 hours. You will also be advised to keep your face makeup-free and avoid consuming alcohol for a day or two after the injections.
The most common side effects of Juvederm hyaluronic acid dermal fillers are tenderness, redness, and minor discomfort at the injection sites. These symptoms are usually self-limited and resolve pretty quickly after the treatment.
It is worth noting that since Juvederm treatments involve needles in the face, they should be performed by professionals. In the wrong hands, the risks can be considerable. When performed by licensed and certified professionals with the appropriate training, however, Juvederm treatments are safe with a low risk of complications.
How long do Juvederm results last?
You will notice an improvement in the appearance of your skin immediately after the Juvederm hyaluronic acid injections. The results will become even more noticeable once the minor swelling subsides. Juvederm results typically last anywhere from 6 months to 2 years, depending on the type of product used and the degree of skin correction required.
If you are interested in learning more about dermal filler like Juvederm, then please fill out the form on this page or contact our office for a consultation.