 Start your skincare journey with this advanced skin and complexion analysis.
Visia Skin Analysis: Personalized Skin Assessment
A plethora of skin rejuvenation treatments are available on the market today. These non-surgical aesthetic treatments can assist individuals in their skincare goals and give their skin a healthier-looking complexion. But deciding which skin treatment is right for you can be confusing. Not to mention the wildly confusing world of skincare products! This is where VISIA skin analysis comes in. It is an evaluative technology that helps create customized treatment programs for age-related skin concerns and improve overall skin health.
One of the leading players in the personalized skin assessment market is Visia from Canfield. Continue reading to learn more about this next-generation system and how it can significantly improve your aesthetic skincare experience.
What is a Visia analysis?
The Visia Skin Analysis System is an innovative platform that allows our aesthetic providers to capture close-up images of your face and automatically detect your skin type and facial features. Visia captures high-quality images with a multi-positioning system, live image overlay, and rotating module that moves left, right, and center.
The Visia system performs an in-depth analysis of your facial characteristics. Based on your ratings and your goals and needs, our experts give you a ton of customized education, guidance, and recommendations. At DCA, our goal is to give you the education and guidance you need to create a plan that will work best FOR you.
We sincerely believe that knowledge is power – and nothing compares to the confidence of knowing you are effectively and efficiently targeting the most important issues affecting your skin.
How does Visia skin analysis work?
Visia uses cutting-edge technologies to evaluate skin type, facial features, sun damage, and pigmentation in your skin. The system's IntelliFlash cross-polarized UV light photography measures and records skin conditions both on the surface and under the skin surface. This allows your provider to assess sun damage. The system's patented RBX technology separates red and brown colors in the skin to assess conditions such as hyperpigmentation, spider veins, and inflammatory changes.
Some of the common skin concerns that Visia skin analysis can detect include:
Red spots (discoloration on and below the surface of the skin, which is distinct from the background skin tone and visible to the naked eye)
Brown spots (age spots, moles, and freckles that cause an uneven texture due to increased melanin production)
UV spots (marks that develop due to absorption of UV light by the melanin in the skin)
Wrinkles (folds or creases in the skin that form due to sun exposure and decreased skin elasticity with age)
Uneven texture (raised and depressed areas that make the skin look less smooth)
Pores (openings of sweat glands in the skin that appear darker than the surrounding skin when enlarged)
Erythema (red areas due to inflammation or spider veins)
Porphyrins (bacteria lodged in pores)
In a nutshell, a Visia scan assesses the strengths and weaknesses of your skin and identifies areas that can benefit from cosmetic treatments. This greatly helps in selecting the best skin treatment and enhances the outcomes of your skincare procedures.

Award Winning
We are an award winning dermatology practice that specializes in aesthetic medicine.

Experience
Our expert medical providers have years of training and hands-on experience.

Packages & Promotions
We offer package pricing and routinely offer special promotions on most of our aesthetic services.

Natural Looking
Our goal is not to make you look like someone else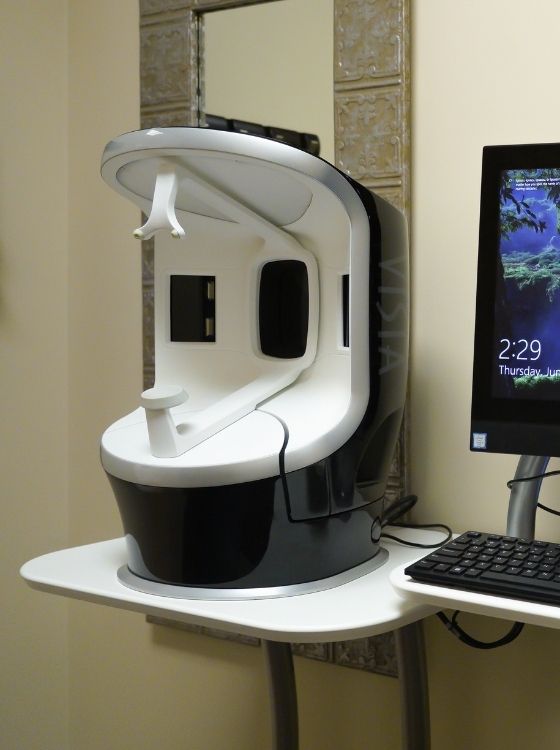 Ideally, every aesthetic patient should start their skincare journey with a VISIA appointment in the Advanced SkinCare Center at Dermatology Center of Atlanta. This allows our skincare treatments to be customized to a client's specific needs. After the initial evaluation, a Visia skin analysis can be repeated every 3-4 months to track progress and make tweaks if necessary.
What happens during the appointment?
You should arrive for your Visia appointment with clean, make-up-free skin. We will ask you to remove any jewelry (earrings, necklaces, facial piercings, etc) so please leave your valuable items at home. The process itself is quick and painless. You sit comfortably in front of the Visia scanner, and it takes close-up facial views by moving left, right, and center. You can view the photos on the computer screen. The results of the skin analysis are available within minutes. Your provider may give you a copy of the scan results to take home.
How do you read Visia results?
The Visia system counts the number of blemishes such as red and brown spots, wrinkles, pores, and areas of irregular texture in your skin. The imperfections are mapped out on the close-up photos of your face.
The initial Visia scan serves as a baseline. It gives your aesthetic provider a clear picture of the current condition of your skin. As your planned treatment progresses, your provider may perform another Visia skin analysis. At this time, you will be able to view the before and after pictures and see how the treatments are helping your skin.
Is Visia complexion analysis accurate?
Visia accurately detects skin imperfections such as wrinkles, pores, hyperpigmentation, uneven texture, sun damage, bacteria, and oil plugs. The system also compares your skin to the skin of healthy people of similar age, gender, and ethnicity. This helps you understand the condition of your skin and aids you in making treatment choices.
How much does Visia skin analysis cost?
A Visia complexion analysis costs $75 to reserve the appointment here at Dermatology Center of Atlanta. At the end of your appointment, you receive a $75 gift certificate to use towards any of our products or procedures.
Why undergo a Visia scan?
Visia skin analysis can help identify your skin type and accurately detect areas of damaged skin. A complexion analysis with Visia can also help to determine your risk for skin problems in the future.
A Visia scan not only gives a clear picture of the current state of your skin it also helps your DCA provider identify areas that require treatment and create a targeted treatment plan for you.
Repeat Visia scans can help track your progress and see whether the treatments have the desired effect. Your provider can also tweak the treatments based on your response.
Ultimately, a Visia scan allows you to get more bang for your buck. You get better outcomes and greater satisfaction from your cosmetic skin treatments thanks to Visia skin analysis.
Contact us to schedule your VISIA today