 CoolSculpting® ELITE: A Complete Guide
Have you been eating healthy and working out regularly but can't seem to get rid of unsightly bulges? Do you have stubborn fat on your abdomen or flanks that just refuses to go? If this sounds like something you're struggling with, there's an innovative technology that can help. It's a nonsurgical treatment that freezes fat and gets rid of it forever. We're talking about CoolSculpting, a treatment that uses a scientifically proven technique to reduce unwanted fat from problem areas. 
The DCA Advanced BodySculpting Center is the place to visit if you are considering any kind of bodysculpting procedure. With our expert CoolSculpting providers and two CoolSculpting Elite machines, we can safely provide fast, effective treatments that get show-stopping results!! 
CoolSculpting employs a technology called cryolipolysis, which employs freezing temperatures to break down fat cells. Once the fat cells are broken down and dead, the body removes them gradually over time. This means the fat in the treated areas is gone – forever.
CoolSculpting ELITE is scientifically proven to eliminate 20-25% of treated fat cells. And it is the only treatment FDA-approved for 9 different areas of the body – more than any other nonsurgical fat-reduction technology. CoolSculpting® ELITE can remove stubborn fat from your abdomen, flanks, upper back (bra fat), outer thighs, inner thighs, upper arms, chin, banana roll (under your butt), and axillary puff (armpit).
With CoolSculpting ELITE you can say goodbye to your love handles, muffin tops, double chins, and other bulges that accumulate in problem areas. If you're motivated to achieve and maintain a fabulous body, CoolSculpting ELITE can help you get further than diet and exercise alone.
WE SPECIALIZE IN MIDSECTION MAKEOVERS
Click on any photo below to enlarge.
What makes CoolSculpting® ELITE different?
The bottom line is that the new CoolSculpting ELITE system produces amazing results, saves time, AND is more cost efficient than the original. CoolSculpting ELITE has been completely re-designed from the original – allowing us to target stubborn fat exactly where YOU want. The ELITE applicators freeze more fat in one treatment than the legacy technology. This means that we can remove MORE FAT with FEWER treatments – getting you the best results in less time. Here are some highlights:
The Elite applicators are better shaped to fit the body's natural curves and come in more shapes and sizes
The new applicators have up to an 18% larger surface area than the originals.
You can eliminate 2x the stubborn fat at once with the Elite's dual applicators.
We have TWO CoolSculpting Elite machines in our Advanced BodySculpting Center–this means we can eliminate even more stubborn fat in less time!
How does CoolSculpting work?
Most people have a few troublesome pockets where fat tends to accumulate, whether it is fat on the sides of the waist or fat hanging over the top of your pants. The belly, flanks, and thighs are the most common problem areas. CoolSculpting targets these areas where fat refuses to budge despite your best efforts to eat healthily and work out.
CoolSculpting employs a technology called cryolipolysis, which literally means using freezing temperatures to break down fat cells. Once the fat cells are broken down and dead, the body removes them gradually over time. This means the fat in the treated areas is gone – forever.
CoolSculpting was developed when it was incidentally found that fat cells have a higher sensitivity to cold temperatures than other cells. When stubborn pockets of fat are exposed to freezing temperatures, the fat cells die while other types of cells are unaffected. What's more, the CoolSculpting treatment is non-invasive, safe, and effective. There is minimal discomfort and essentially no recovery period or downtime.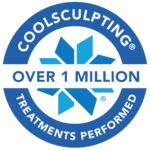 Safe and Effective
More than one million CoolSculpting treatments have been performed worldwide.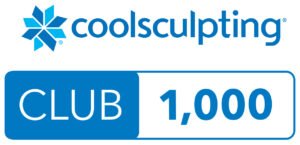 Experience
The CoolSculpting technicians in our Advanced BodySculpting Center have years of experience.
Latest Technology
Dermatology Center of Atlanta was one of the first practices in the area to offer CoolSculpting.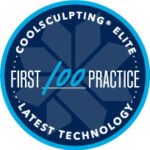 Artistry
Our providers have an artistic eye and sculpt your treatment to achieve your body contouring goals.
What happens during a CoolSculpting® ELITE treatment?
Your CoolSculpting provider will place a cup-shaped device on the treatment area and securely strap the applicator so that it doesn't move throughout the treatment. The device will apply suction to the tissues and lower the temperature to start the process of freezing. You may feel cold at first, but the sensation quickly subsides as the area becomes numb. There can be mild tingling or tugging sensations, but again, these feelings subside as the numbness takes hold. After 30 to 45 minutes the CoolSculpting ELITE applicator is removed and your provider massages the area for with a warm cloth for two minutes.
Each CoolSculptingÒ Elite application will remove roughly 20-25% of fat cells in that area. It's important to remember that CoolSculptingÒ is not a weight loss procedure……however, it is an excellent way to help you achieve your goals faster than with diet and exercise alone.
How many CoolSculpting® ELITE sessions will I need?
During your bodysculpting consultation, your CoolSculpting provider will map out a specific treatment plan just for you. This plan will include the number of treatment cycles required to completely treat your areas of concern as well as over how many appointments your plan will take place. Most people require a series of treatment sessions for the best results. Your CoolSculpting provider will advise you about the recommended number of sessions and how far apart they should be spaced. Because we have two CoolSculpting machines in the Advanced BodySculpting Center we can treat multiple areas at once, which may result in fewer sessions.
What kind of results can I expect after CoolSculpting® ELITE?
CoolSculpting is an FDA-approved non-invasive treatment for stubborn fat in specific troublesome areas. Studies have found that more than 85% of CoolSculpting patients have noticeable improvement in the treated areas. Moreover, 8 out of 10 patients say they would recommend CoolSculpting to their friends without any reservations.
You will notice a visible reduction in fat in the treated area 3-4 weeks after your CoolSculpting session, but the improvements will continue to develop for up to 8 weeks. After about 8-10 weeks, the results of CoolSculpting will be fully achieved. Remember, the fat is gone forever and won't come back. Even if your weight fluctuates after your CoolSculpting ELITE treatment, your new body shape will remain. 
Are there any side effects of CoolSculpting® ELITE?
The most common side effects people experience with CoolSculpting ELITE are swelling, bruising, redness, tingling, and tenderness. All these symptoms are usually temporary and resolve in a few days. It is worth noting that the risk of side effects and complications of CoolSculpting is significantly lower than invasive fat loss treatments like liposuction. Also, the discomfort associated with CoolSculpting is considerably less than other non-invasive fat-reduction treatments like laser or high-frequency ultrasound.
Who is a good candidate for CoolSculpting® ELITE?
At this point, you're probably wondering is CoolSculpting right for me? The best way to tell is to schedule a consultation in our Advanced BodySculpting Center. One of our master CoolSculpting providers will assess you and evaluate whether or not CoolSculpting is the best treatment for you to achieve your body sculpting goals.  
CoolSculpting is a good choice for you if you are at or near a healthy body weight, eat a healthy diet, and exercise regularly. This body sculpting treatment is a safe and effective way to get rid of stubborn pockets of fat in problem areas like the thighs, buttocks, flanks, belly, and back. The treatment can be done on all types of skin, in both men and women. There's no surgery involved, no needles, and no pain. You don't have to take medications or eat a special diet. Recovery is almost immediate, and there's no downtime. However, CoolSculpting is not recommended for people who are severely obese.
It's important to have realistic expectations. CoolSculpting is not a weight loss procedure. The results from CoolSculpting are not going to be as dramatic as the results from invasive treatments like liposuction. Also, it takes more time after CoolSculpting for the results to be visible. But if you are interested in reducing the amount of fat from a problem area like your lower belly or inner thighs without surgery, CoolSculpting ELITE may be just what you're looking for!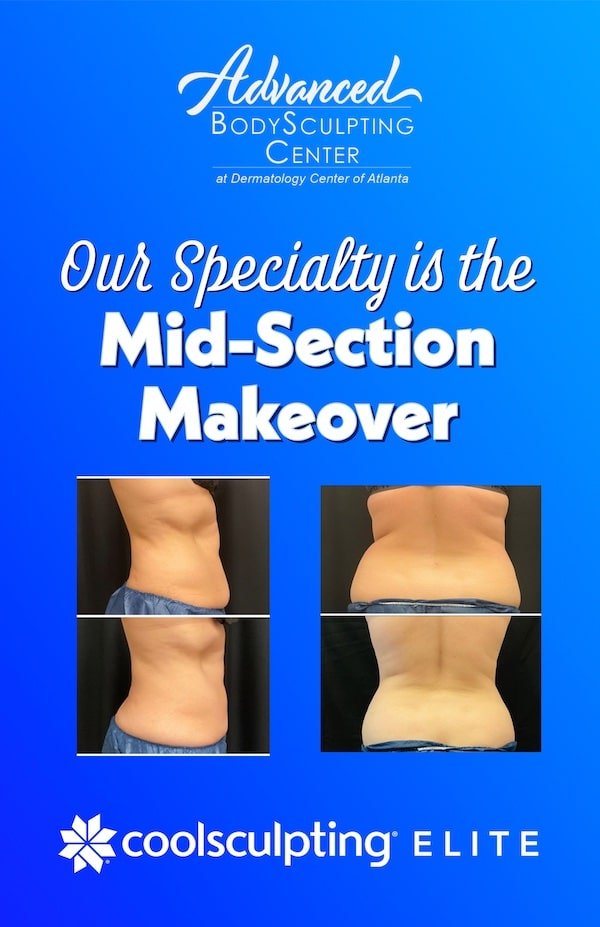 Why choose the Advanced BodySculpting Center at Dermatology Center of Atlanta?
DCA's owner and founder Dr. Leslie Gray is a board-certified dermatologist who has been practicing in the Atlanta area for more than 20 years. Dr. Gray's philosophy is to offer only the absolute best services and procedures. She has been treated with both CoolSculpting ELITE for fat reduction and CoolTone for muscle conditioning, and she chose to offer these procedures to her patients because they work.
DCA was one of the very first providers in the entire Johns Creek area to offer the original CoolSculpting treatment back in 2015. Our CoolSculpting technicians are highly experienced – combined they have performed more than 1,000 CoolSculpting treatments. Our goal is not to sell you the biggest treatment plan, but to do everything we can to help you reach your personal aesthetic and wellness goals!
Schedule a CoolSculpting consultation with us today!