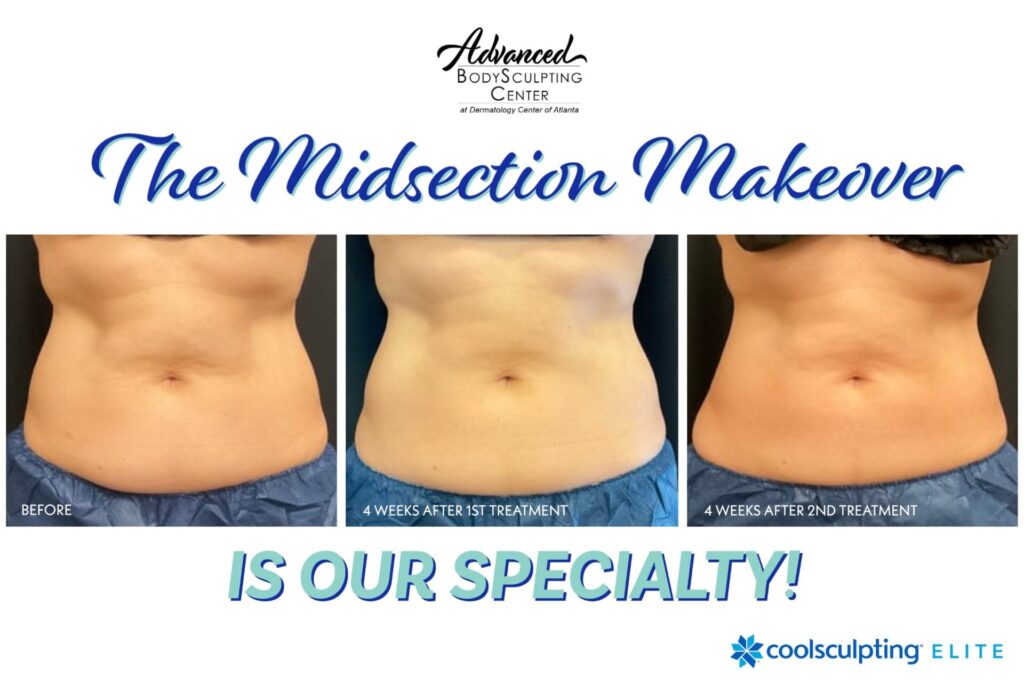 How does CoolSculpting® work?
CoolSculpting® employs technology called cryolipolysis, which literally means using freezing temperatures to break down fat cells and only fat cells – other cell types aren't affected. After being treated with CoolSculpting®, the dead fat cells are gradually removed by the body and then they are gone – forever. What's more, CoolSculpting® is non-invasive, safe, effective, and involves minimal discomfort and minimal downtime.
How is CoolSculpting® ELITE different?
The new CoolSculpting® ELITE system is the most advanced CoolSculpting technology available to help you achieve your body contouring goals. The ELITE system has been completely re-designed – allowing us to target stubborn fat exactly where YOU want for even better, more customized results than the original. The new applicators have up to an 18% larger surface area than the originals, and each Elite machine has two applicators so in many cases we can eliminate twice the stubborn fat at once. PLUS, here in the Advanced BodySculpting Center, we have TWO Elite machines! This means we can get you the best results in the least amount of time.
Is CoolSculpting® ELITE safe?
Yes! More than one million CoolSculpting® treatments have been performed worldwide, and our bodysculpting providers have years of experience. Our owner and founder Dr. Leslie Gray is a board-certified dermatologist who has been practicing in the Atlanta area for more than 20 years, and her philosophy is to offer only the absolute best services and procedures. She has been treated with CoolSculpting® Elite, and she chose to offer this procedure to her patients because it is the safest and most effective non-invasive bodysculpting treatment available.
What areas of the body can be treated with CoolSculpting® Elite?
CoolSculpting® Elite is FDA-cleared to treat 9 different body areas: the abdomen, flanks, bra fat, inner thighs, outer thighs, above the knee, axillary puff, upper arms, and the area just underneath your buttocks, aka "banana roll".
How much fat will I lose?
Each CoolSculpting® Elite application will remove roughly 20-25% of fat cells in that area. It's important to remember that CoolSculpting® is designed as a spot treatment for stubborn body fat, it is not a weight loss procedure. Ideal candidates have pinchable fat but are not obese. It is, however, an excellent way to help you achieve your goals faster than with diet and exercise alone.
You will notice a visible reduction 3-4 weeks after your CoolSculpting® session, and your results will continue to improve for up to 12 weeks following your final treatment. You will retain the results of your CoolSculpting® treatment as long as you do not gain significant amounts of weight. 
How many treatments will I need?
This depends on the body areas you are treating and also your personal goals. To get the best results, we recommend two rounds of treatment per area done 4-6 weeks apart. For example: our famous Midsection Makeovers are typically 8 treatments (two sessions, four treatments each) while upper arms are usually 4 treatments (two treatments over two sessions). Your Advanced BodySculpting Provider will create a customized treatment plan for you based on your goals, lifestyle, and budget. 
What does CoolSculpting® feel like? Does it hurt?
CoolSculpting® involves very little discomfort. When your treatment begins, you may experience sensations like stinging, tingling, aching, or cramping — these generally subside as the area becomes numb, in approximately 10 minutes.
Immediately after your treatment your provider will massage the tissue for 2 minutes, during which you may feel a sense of nausea or dizziness as your body. It is also normal to experience swelling, redness, soreness, tingling, and/or temporary dulling of sensation in the treated area immediately after and up to for 2-3 weeks after your treatment. Most patients are able to return to their daily routine immediately!
Who should not or cannot get CoolSculpting®?
Contraindications include:
Cryoglobulinemia or paroxysmal cold hemoglobinuria
Impaired peripheral circulation in the area to be treated
Neuropathic disorders, such as post-herpetic neuralgia or diabetic neuropathy
Impaired skin sensation
Open or infected wounds
Bleeding disorders or concomitant use of blood thinners
Recent surgery or scar tissue in the area to be treated
A hernia or history of hernia in or near the area to be treated
Skin conditions, such as eczema, dermatitis, or rashes
Pregnancy or lactation; and/or
Any active implanted devices such as pacemakers and defibrillators.